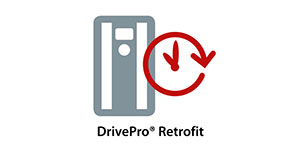 Innovation is one of Danfoss Drives' key strengths. We are continually developing new application-optimized products that maximize process performance, save the most energy and minimize emissions. DrivePro Retrofit manages the end of a product's lifecycle and provides professional help to replace your legacy drive and ensure a seamless transition to its successor product.
You'll find below a list of VLT and VACON drives that are no longer part of our active product portfolio. You'll still have access to the technical documentation for these products, and our DrivePro® services continue to provide you with spare parts and services.
The VLT 2800 will be succeeded by the VLT Midi Drive FC 280. This is more than just a successor; it is simply the best alternative. Beside the full backwards compatibility, it offers a number of additional functions which makes this new drive flexible, communicative, easy to use and the best fit for your application.
The VLT Decentral Drive FCD 300 will be succeeded by the VLT Decentral Drive FCD 302. As part of our active decentralized drive portfolio, the VLT Decentral Drive FCD 302 offers the same robustness, and is also a perfect fit for all installations where hygienic design is a must.
The VLT DriveMotor FCM 300 will be succeeded by either the VLT DriveMotor FCM 106 or FCP 106. When it comes to the need for a complete package that includes the drive and the motor or just a motor-mounted drive solution, either product will be simply the best choice.
The VACON 10 will be succeeded by the VACON 20 which has an even longer list of features. And, thanks to the same hardware concept, it also shares the same voltage and power range, mounting dimensions and enclosure sizes for a perfect retrofit.
The VACON NXL will be succeeded by the VACON 20 and VACON 100 products which use state-of-the-art technology and provide even more features to ensure a fast and easy retrofit for existing systems and applications.