Conventional Initiating Devices

500 Series Smoke Detectors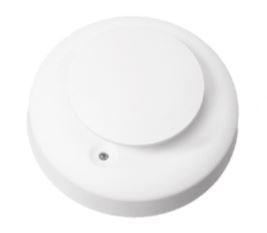 Edwards Signaling 500 Series Two-Wire Conventional Photoelectric Smoke Detectors bring together trusted technology and a full line of features that meet the demands of every type of application. Kidde 500 offers sounder models in two-wire applications, specifically to meet residential occupancy code requirements. Interlogix 500 Series also offers choices for optional auxiliary relays and isolated heat sensors.

Edwards is also proud to offer proven technology like CleanMe, drift compensation, field replaceable optical chambers, and self-diagnostics. CleanMe is only available on GE Security 521 2-wire models and will communicate to the Edwards panels when servicing is required.

Kidde 500 Series detectors work on a light-scattering principle. A pulsed infrared light-emitting diode serves as the light source, and a high-speed photo diode as the sensing element. This design has superior protection against nuisance alarms caused by dust, insects, RF interference, and ambient light.

The proprietary optical chamber is field replaceable. In the event of a confirmed alarm the LED will light continuously. The unit indicates trouble by flashing the LED every second. This meets the NFPA 72 field sensitivity testing requirements.

Units with built-in 85dBA sounders emit a temporal 3 tone pattern when in alarm and will emit a steady tone when the input power is reversed. All wiring terminates in clamp-type screw terminals. The detectors mount to a standard single-gang electrical box, a four-inch octagonal, four-inch square electrical box, or WIREMOLD(T) No. 5739 fixture box.

Standard Features

• CleanMe remote maintenance reporting (521 models) and built-in drift compensation reduces false alarms
• Self-diagnostics eliminates the need for external meters
• Field-replaceable optical chamber makes ser- vice fast and simple
• Small, low profile design blends with any environment
• Optional auxiliary functions include:
- Integral sounder
- Fixed/Rate-of-Rise heats
- Auxiliary relay

Detector Options Key

N = Detector includes optional function
B = 6-33VDC operation
C = 8.5-33VDC operation
R = Auxiliary relay
S = 85dBa sounder
XT = Rate-of-rise and fixed temp sensors

Two-Wire Models
511C
Photoelectric - 2-Wire Smoke Detector, 12/24VDC. Not ListedMEA. S09A, S10Acompatible - Data Sheet S85001-0595
521B
Photoelectric - 2-Wire Smoke Detector w/CleanMe, 6/12 or 12/24VDC. S09A, S10ACompatible - Data Sheet S85001-0606
521BXT
Photoelectric - 2-Wire Smoke Detector w/CleanMe andHeat Sensor, 6/12 or 12/24VDC. - Data Sheet S85001-0606
521NCRXT
Photoelectric - 2-Wire Smoke Detector w/CleanMe, Heat Sensor andAuxiliary Relay, 12/24VDC. - Data Sheet S85001-0606
521NCSXT
Photoelectric - 2-Wire Smoke Detector w/CleanMe, Heat Sensor andSounder, 12/24VDC. - Data Sheet S85001-0606