Intelligent Control
Kidde
life safety systems are a powerful intelligent solution for small to mid-sized buildings. The Edwards family includes intelligent addressable and conventional fire alarm control systems. A full line of remote annunciators, modules and accessories are available for both intelligent/addressable and conventional panels. Advanced technology delivers the benefits of flexible system installation, while a clean and easy-to-operatate user interface makes panel operation and system maintenance quick and intuitive.

Flexibility built right in

Kidde programming features allow the system designer to customize powerful built-in features to precisely suit the needs of each building.

Intuitive software
The
Edwards FSA-CU Configuration Utility
is a windows based program used to configure system operation for the Edwards E-FSC conventional and E-FSA addressable systems. The program can communicate remotely with a 56K Modem and optional DACT installed in the panel. It also can communicate with the addressable panels over RS-232 or Ethernet with optional modules. When used with the addressable panels, the Configuration Utility provides access to extensive reports and diagnostic tools. These reports and tools can be accessed remotely over the DACT or Ethernet modules.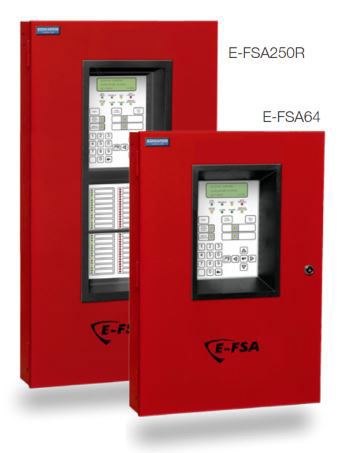 Signals with a difference

Kidde NACs are configurable to fully support the ad- vanced signaling technology of Genesis notification appliances. These devices offer precision synchronization of strobes to UL 1971 standards. For Genesis devices, enabling this feature allows connected horns to be silenced while strobes on the same two-wire circuit continue to flash until the panel is reset.

Clear-cut remote annunciation

Remote annunciation is a strong suit of Edwards intelligent panels. Up to eight annunciators can be installed on a single addressable system. Compatible annunciators include a range of LED and LCD models that provide zone or point annunciation, as well as common control capabilities.

Edwards also supports graphic annunciation with optional Graphic Annunicator Interface (GCI) modules. Each interface provides common control, indicators, and 32 LEDS.

A complete line of accessories

Kidde fire and life safety systems are supported by a complete line of detectors, modules and related equipment, each of which is fully tuned and tested to operate in concert with one another to provide highly reliable service and years of trouble-free operation.