Mounting Positions for Recessed Switches

Application:

Sentrol recessed contacts can be installed in a variety of positions to accommodate any application. As shown in Figure 1, the switch and magnet can be mounted end-to-end within an imaginary arc around the switch, or parallel to the switch. If using a wide gap switch with a bare magnet, the red end must be mounted away from the Interlogix switch (wide gap switches are sensitive to the polarity of the magnet).

Gap distance will vary approximately 20% from the rated gap distance of the switch, depending on the type of switch and the mounting position. It will be necessary for the installer to experiment to determine if a given switch will work in a given position.
Note: Switch and magnet must not be mounted in a "T" configuration as shown in Figure 2. In cases where a surface magnet must be used with a recessed switch, use a surface mount switch from the
1082 Switch Series
. Mount the magnet as shown in Figure 3.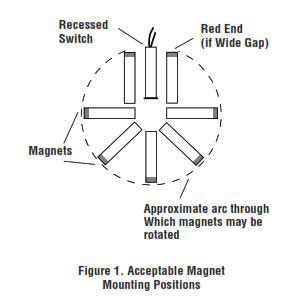 Pro-Tips For Reliable Installation of Magnetic Contacts
1. When installing concealed switches in green lumber... to prevent switch damage as the lumber dries, twists, and contracts.
a. Over-drill (loose fit) the mounting hole. Use RTV (
Sentrol 1905
) to hold the unit in place.
b. As alternate, use adapter such as Sentrol 1908 model.
c. Use
Sentrol Model 1275
or
1275W
Wing Fit model.
2. To protect loose-fitting doors from false alarms...
a. Mount the switch and magnet near the hinge side of the door.
b. Use a Sentrol wide gap unit to assure trouble-free performance.
3. To protect steel doors...
a. Use wide gap switches for maximum tolerance.
b. Use recessed switches that provide adequate insulation from steel (such) as
Sentrol 1078
or
1078C
).