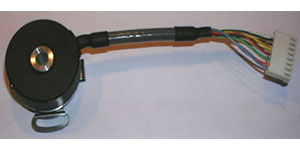 If you're trying to replace a discontinued Renco brand rotary encoder, it can be a challenge. Especially when it comes to matching the Renco connector. Our new Technical Bulletin 532 makes that challenge a little easier.
Encoder Products Company is contacted frequently to assist with configuring rotary encoder models to replace units formerly manufactured by Renco Inc. Your first priority is to confirm compatibility of the basic electrical and mechanical features, such as pulse count, channels, output type, bore size, etc. The connector is often one of the last items to be conifigured. But, if not done correctly, it can be a point of frustration when installing the encoder.
To assist you in configuring a plug-and-play drop-in replacement for discontinued Renco encoders, we've developed a special connector option, designated as "SPEC779". There are some important factors to consider prior to ordering SPEC779; the details are spelled out in our new Technical Bulletin 532 (TB-532) "Applying SPEC779 When Replacing Certain RENCO Encoders."
EPC's SPEC779 option can be applied when replacing Renco models such as: RCH20, RHS20, RHS25, RHS21, RM21, RCM21, RS21, RCM15, RM15, RCML15, RMC1520, RS15, RHS15, and others.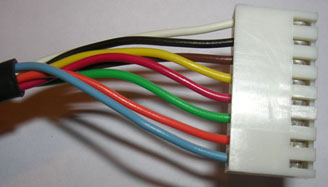 SPEC779 applies a flat, white 8-pin connector (AMP770602-8) to the end of the encoder cable as shown above. The cable can be ordered to length. SPEC779 can be applied to EPC Models 121, 260, 15T, 15H or 15S. Also, Line Driver (HV) and non-commutated output must be specified.
There are some dimensional differences between Renco's standard flat, black 8-pin connector (AMP103650-7) and EPC's flat, white 8-pin connector (AMP770602-8), as shown below. However, the correct pinout and spacing are used, and the EPC "SPEC779" connector plugs right into pin-headers often used in conjunction with the Renco servo-motor applications. When the Renco connector was used with an in-line connector, there are instances where a mating connector will be needed.