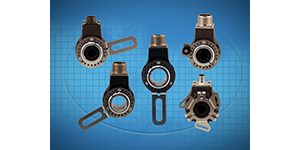 Aftermarket replacement of encoders for motors is easy with EPC's new Direct Motor Replacement (DMR) encoders. DMR's are "plug-and-play" cross reference replacements for rotary encoders used in many common motor brands.
The average production plant has anywhere from a few dozen to hundreds of motors - TENV, TEBC TEFC, or ODP and many other types. All from different motor manufacturers, with each brand supplying their own assortment of encoders for any given motor model. Encoders by nature are highly configurable devices due to the need to interface between the motion axis, in this case a motor, and the receiving device, such as a controller.
Thus, the number and variety of encoders that are required to maintain a production plant can be dizzying in scope. In many operations, a fair amount of the maintenance department's shelf space is taken up by encoder spares. And, quite a few of those encoders are needed just for AC induction motors alone. The simple fact is, many of these incremental rotary encoders can be replaced with a relatively small number of configurations of the Encoder Products Company Model 25T.
That's why EPC developed the DMR Series around the versatile Model 25T incremental rotary encoder. Its multiple bore sleeves, connectors, mounting tethers and output types all can be combined and configured to meet or exceed OEM motor encoder specifications. While it's not a one-size-fits-all, it's certainly a one-size-fits-a-whole-lot encoder.
So, how do you cross-reference all those motor encoder parts to a DMR?
Fortunately, EPC has done the heavy lifting of sorting through reams of encoder specifications of numerous motor manufacturers and identified the optimum Model 25T cross-reference configuration. To make the selection process easy, the DMR Brochure lists simplified motor information and the corresponding DMR encoder. The brochure categorizes encoders according to motor housing type (TENV, TEBC, etc.), shaft diameter or bore size, and connector type. With those three bits of information you can select the appropriate DMR.
The benefits of using the DMR series includes reduced inventory management and carrying costs, reduced lead time and in many cases a favorable price differential. And, of course, the DMR series offers the performance and quality expected from Encoder Products Company. Each encoder is equipped with advanced Opto-ASIC sensor technology, 105C temp rating, and an IP66 shaft seal; and, all are made in the USA and backed by our 3-year warranty.
The DMR Series of encoders was developed primarily for opposite-drive-end mount to AC induction motors with frame sizes ranging from NEMA 56C to 286. However, the DMR Series encoders are applicable to larger frame sizes as well. In addition, EPC offers numerous encoder alternatives for servo, brake-motors, gear motors and other motor types and frame sizes found throughout industrial manufacturing plants. Contact us for specifiation assistance if needed.
To learn more about DMR encoders from Encoder Products Company and how to select the correct configuration for your motor application, click the button below to download the DMR brochure.