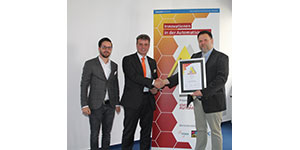 With an impressive 31.9% of all votes,
Kübler achieved 1st place for the new Sendix S36 motor feedback systems
.
The Automation Award is the most important prize in the automation industry and is presented annually at the SPS IPC Drives trade fair in Nuremberg. Five products are nominated in advance by a jury from the field of science, VDMA, ZVEI and the editorial office elektro AUTOMATION. One of the products nominated was the Sendix S36 from Fritz Kübler GmbH in the category "Standard Components & Sensor Technology". Visitors voted for their favorite during the three days of the fair.
One for all! The slogan of the new Sendix S36 product family.
Thanks to its compact design, at only 36 mm it reduces the motor variants with a simultaneous maximum resolution of 2048 SinCos / revolutions or 24 bits fully digital – these features save space and costs. Furthermore, its sturdy construction makes it particularly shock and vibration resistant. A large number of possibilities of various electrical interfaces offer the customer maximum flexibility in selection:
• RS485 + sin/cos (Hiperface compatible)
• BiSS
• BiSS Safety
• BiSS Line (single-cable solution)
• SCS open Link (single cable solution)
A taper or blind hollow shaft with different torque stops is available for standardization. There is also a wider range of options in terms of functional safety: Depending on the preference of the taper or blind hollow shaft, the drive manufacturer can freely select the preferred mechanical connection for its safety concept.
"We are extremely pleased with this award and would like to thank all visitors who voted for our Sendix S36," announced Arnold Hettich, Product Manager Position and Motion Sensors, at the award ceremony on 07.12.2017. "In this respect, Kübler is taking a significant innovative step in the field of motor feedback systems and is already causing a great stir at the time of its first release," continued Arnold Hettich.