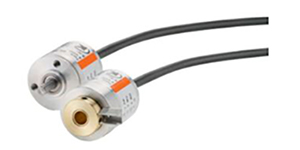 With a diameter of only 24 mm, the optical 2400/2420 encoders are the ideal position sensors especially for tight installation spaces. They belong to the miniature encoder portfolio of the manufacturer Kubler, who has been following for years the trend towards compact designs and is developing and manufacturing compact sensors. The optical 2400/2420 encoders are both space-saving and reliable and accurate.
The robust bearing structure in Safety-Lock design and the short-circuit proof outputs emphasize the robustness of these encoders. Over 12,000 variants are available to the user, allowing him to select the suitable encoder for his application and for the available installation space. Every detail is important, especially when space is tight: So the customer-specific adaptations include mechanical adaptations such as e. g. larger hollow shafts, special flanges, higher bearing load or electrical adaptations such as e. g. special cable lengths, including application-specific connectors.
Quick availability is another advantage of the 2400/2420 series. According to Kubler, short delivery times, large number of variants and standard types kept in stock are possible without problems. Application possibilities for miniature encoders can be found mainly in small appliances and in compact applications. But they also find their place in mobile automation, in door drives and in various processing equipment.

For the drive technology

One of the challenges, in the drive technology, is to develop increasingly compact drives - with in the same time higher performance, better dynamics and improved energy efficiency. This leads inevitably to new requirements also for the encoders. This is why Kubler developed with the Sendix F5583 in its MotorLine version a totally new product - an optical hollow-shaft encoder with a construction depth of only 43 millimeters. Compared with the multiturn encoder Sendix 5883 equipped with mechanical gear, this new version allows saving 27 mm.
Kubler considers this as a milestone in an industry that has to house its components even in smallest gaps. This opens up new possibilities when dimensioning the geared motors and for installation in tight mounting spaces. The Sendix F5883 in the Motor-Line version is based on the mature Sendix platform, which stands for robustness and reliability. Thanks to the Intelligent-Scan technology, this totally optical encoder is highly accurate and 100% insensitive to magnetic fields. This encoder has excellent EMC characteristics.