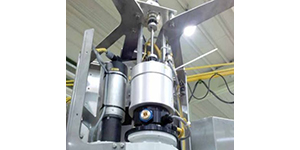 Resealable sausage packages, a zipper on the grated cheese bag, orange juice pockets with a twist-off cap or lightweight PET instead of glass: all these innovations intend to make our life easier - with more or less success. The packaging industry, whose production volume increased by six percent last year in Germany, is undergoing profound change. Packaging and filling plants, starting from small metering devices up to complex packaging lines and special machines, mobilize today complete branches of the automation industry.

The machines are working at ever faster speeds and in ever more compressed cycles, and they have to process new products in always shorter intervals. Today, packaging manufacturers are conjuring sometimes extravagant, sometimes ecological or highlyfunctional variants in size, material, shape or color.
Flexible automation supports them in spite of all individualization, to produce in an even more efficient and cost-effective way. While in the 1990s a serial robot managed to process a packaging volume of 47 pieces of chocolate per minute, a so-called parallel robot is processing today up to 130 pieces of the same product. And it is often even cheaper to purchase.

Flexibility is more ecological
More flexible, faster machines and plants are the answer to the new challenges of the industry. In view of the ever growing garbage mountain - the whole of the packages represent worldwide almost a third of all the garbage - we have to reconsider the materials and their quantities.
Today, the more flexibly a packaging machine can be set up and retooled, the larger the environmental benefit. Because flexibility means here that possibilities are created to provide individual products exactly with the quantity of packaging they need. Not more and not less. In these innovative plants, Kubler slip rings transmit reliably and fast all relevant information, signals and loads. They feature a particular robustness and a long service life.
Function of slip rings
With its wide range of slip rings, the sensor manufacturer Kubler offers extensive support for the complex process chains of the packaging industry, from the flow pack machine up to filling or labeling plants. This includes an innovating contact technology as well as reliability or the cost savings topic both in operation and for assembly and maintenance.
The Kubler slip ring portfolio covers both standard solutions and complex systems and devices according to customer specifications. Slip rings allow transmitting power, electrical signals and various fluids such as compressed air or hydraulics from a stationary to a rotating element, and vice-versa. They thus play the role of a mobile interface for constant power transmission over 360° and beyond. This technology is typically used in rotary tables or in industrial robots that have to repeat their moves and tasks millions of times with a durably constant accuracy.
According to the different requirements, Kubler offers slip rings of various types, protection levels, materials and power. So certain slip rings use coating systems containing precious metals, which have a high wear resistance. Combined with a wide variety of contact materials, this ensures trouble-free signal and current transmission and prevents the formation of oxides or corrosion.
SR060E in flow pack machines
This trend is also clear in flow pack machines: less is more. Innovative lightweight films are weighing up to 40 percent less than their conventional counterparts. Also novel flexible vacuum films used as a two-chamber solution keep food fresh for longer; in addition, innovative adhesives contribute in improving durably the ecological footprint of the tubular film packaging.
Flow pack machines are used mainly when a particular high packaging density and stability is required, such as in the food industry or in th e medical or pharmaceutical technology. Plant competitiveness is ensured by high speeds, low maintenance costs, long service life and particularly hygienic cleaning possibilities in compliance with the GMP or with the EcoLab standards. Therefore, the constructive concept of the plant must be oriented towards product-gentle, accurate and trouble-free processes.
The suitable slip ring for this application must feature high rotary speeds, high load current and particularly low-wear contacts. The new Kubler slip ring generation SR060E has been designed especially to meet these requirements. With up to three load and two signal channels, this series is designed for a load current up to 20 A, therefore standing out with short heating times. Thanks to the fully encapsulated housing with a two-chamber system, it is in the same time safely protected against touching and humidity, perfectly insulated and particularly easy to clean. It shows all these strengths in heating and monitoring sealing rollers in flow pack machines, stretch film packaging or balancing devices.
Moreover, the SR060E features all relevant characteristics to meet fully the strict hygiene and cleaning safety requirements in aggressive environments. So, thanks to its smooth surfaces without undercuts, the corrosion-resistant oval housing with protection level IP64 withstands easily the regular cleaning of the machine, even when using aggressive detergents and disinfectants.
SRI085 for filling and labeling plants
When products look similar, it is up to the packaging to make the difference. Trouble-free filling and labeling can be achieved with low maintenance, high service life and reliability of the components. With its non-contact signal transmission, the Kubler slip ring SRI085 has the answer.
News for the branch
Packaging and filling operations belong today to the crucial stages in the added value of a product. Because it is the overall outlook of the good that captures our attention and eventually influences - within seconds - our purchasing decision.
Kubler developed a stainless steel version of its slip rings, especially for use in the food processing sector, with its high requirements in terms of hygiene and safety relating to material interaction: thanks to its smooth and round design, the SR160, available either for encoder connection or for air connection, offers no surface where dirt could accumulate. The material features protection level IP65 and a particularly high-grade sealing technology; it withstands even highly-aggressive detergents and makes the slip ring a real packaging artist.