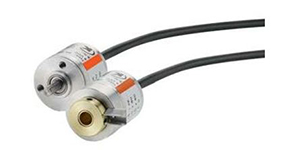 Encoders are classical WAP sensors for the acquisition of dynamic processes. They are indispensable especially in applications with rotationally symmetrical drives such as motors. In this context, tight mounting space can make their use complicated, and, on the other hand, mechanical features such as direct drive or mechanical structures must be taken into consideration.
When it comes to finding the suitable encoder for tight mounting spaces, Kubler offers, from its encoders portfolio, the miniature encoder 2400/2420, in its own estimation the most versatile miniature encoder. These encoders correspond to the longstanding trend for a more compact construction, and, since the requirements and the demand for compact sensors are increasing this trend is still continuing. No compromises are accepted, especially in terms of robustness and accuracy.
Great in tightest spaces

Kubler offers a miniaturized series of incremental encoders that have been successfully used as the solution for many applications. With their diameter of only 24 mm, the optical 2400/2420 encoders are both space-saving and reliable and accurate. The robust bearing structure with the Safety-Lock design and the short-circuit-proof outputs highlight the robustness of this encoder.
The users can select among more than 12,000 variants the suitable encoder for their mounting space. This is a huge advantage compared to usual market encoders. This wide variant variety reflects among others in various flanges, shafts, and a wide range of pulse numbers per revolution. Every detail is important, especially when space is tight: therefore Kubler offers its customers »real« added value in the form of customized adaptations. The 2400/2420 encoders are the most versatile miniature encoders in the market. Mechanical adaptations such as e. g. a larger hollow shaft, special flanges, higher bearing load or electrical adaptations such as e. g. special cable lengths, including application-specific connectors, are implemented without further ado by the sensor manufacturer Kubler.
The quick availability of this encoder series is another advantage. Short delivery times, large number of variants and standard types kept in stock are natural at Kubler. This incremental encoder is used mainly in small appliances and compact applications. But the optical 2400/2420 encoders also find their place in the mobile automation, in door drives and in various processing equipment. In brief: Kubler's miniature encoders offer a wide range of variants and great versatility and are therefore the tailor-made encoder for tight installation spaces.

A standard for gearless drives

Gearless drives are used in the elevator technology for their high torque at low rotation frequencies and their smooth and silent operation. The optical singleturn encoders Sendix 5873 are available with SSI or BiSS interface and optional 2048 ppr SinCos incremental track. These absolute encoders achieve a resolution up to 21 bits. According to Kubler, their high fullydigital resolution of 21 bits or 17 bits +2048 ppr SinCos ensures best drive control.
The "Plug and Play" concept, the electronic data sheet and the possibility to set the measuring system to a predefined position value ensure simple and fast commissioning. According to the manufacturer Kubler, the "Plug and Play" feature, the electronic data sheet and the possibility to set the absolute measuring system to a predefined position value are advantages when commissioning. According to their manufacturer, the optical singleturn encoders Sendix 5873 have been designed especially for fitting on direct drives in the elevator technology.
Features such as the stator or expanding coupling, a tangential cable outlet and a tapered shaft ensuring reliable connection with the drive shaft, as well as the robust Safety-Lock bearing structure, provide further advantages. Data up-to-dateness of the position value ≤ 1µs, fully digital 21-bit resolution, short control cycles contribute to higher drive control efficiency.
The optical singleturn encoders Sendix 5873 withstand installation errors, shocks and vibrations. For Kubler, this results in specific requirements for the used encoders, such as short control cycles and high resolution and reliability. Exactly these characteristics make the optical Sendix 5873 encoders in their Motor-Line version the ideal solution for gearless drives.

For tight mounting spaces

The trend towards the development of ever more compact drives with higher power, more dynamics and improved energy efficiency also leads to new requirements for encoders. The new requirement, besides accuracy, robustness and reliability, is "the more compact, the better". To allow designing more compact drives, also the encoder solution must be adapted accordingly.
Kubler developed, with the Sendix F5883 encoder in its Motor-Line version, a totally new product for this purpose. This F5883 encoder is an optical hollow-shaft encoder with an installation depth of 43 mm. Compared with the Sendix 5883 multiturn encoder with mechanical gear, this new device allows saving 27 millimeters. This opens up new possibilities when dimensioning the geared motor and installing the encoder in tight mounting spaces. Thanks to the Intelligent-Scan technology, the fully optical high-accuracy Sendix F5583 encoder is 100% insensitive to magnetic fields and boasts excellent EMC features.
The wide range of interfaces such as SSI, BiSS, SinCos, RS422 and Push-Pull ensure flexible connection to the frequency converters. Equipped with their robust Safety-Lock bearing design, this encoder withstands installation errors, shocks and vibrations. This encoder is available with a through hollow shaft of up to 15 mm and clamping on the A and on the B side. It is therefore the optimal solution for all usual geared motor drive shafts.