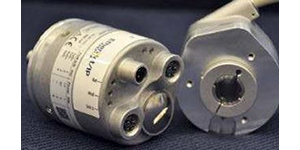 No question, with 10 percent market share, the Kubler Company is mainly popular for its encoders. But this company has a lot more in stock.
"We want to reinvent ourselves every time." This is the credo of Managing Director Gebhard Kubler for the Company he runs with his brother Lothar Kubler. He declares: "In the encoder branch, we can clearly differentiate ourselves from the competition with our flexibility and our rapidity." He wants to place greater emphasis on these points in the future and launches for the SPS IPS Drives fair the 'Individual Encoders' program.
The goal is to increase the market share of about 10 percent - that is to say about 500,000 encoders yearly. Another area is quietly contributing with more than 20 percent to the turnover: the classical counters and displays, of which Kubler is selling about 1.5 million every year. In total, Kubler achieved in 2014 with all its business areas a turnover of about 55 million Euros.
For 2015, the two brothers forecasted a 63 million Euros turnover, "which we will not reach totally," according to Gebhard Kubler. He expects 60 million Euros. For 2016, momentum will be given by some products, among which, of course, the individual encoders. Derived from the standard range of housings and connection variants, encoder technologies and interfaces, many encoder types will be configurable on line and delivered quickly.
Compact encoder - cut very thin
The Sendix F58 Motor Line is the current newcomer in the encoders. According to Kubler, it is with 43 mm the currently slimmest multiturn encoder on the market, and it achieves the balance between a compact construction with high dynamics and energy efficiency. Another variant completes Kubler's Ethernet encoder portfolio. Besides Profinet and Ethercat, the encoders now support also Ethernet/IP.
The optical absolute singleturn and multiturn encoders Sendix F58 Ethernet/IP with a 58 mm size are designed for time-critical applications: RPI time is only 1 ms. Thanks to their robust bearing structure (Safety Lock Design), these encoders withstand installation errors, shocks and vibrations.
Safety program development
Safety technology is an integral element of the product portfolio since 2009. Certified encoders and a comprehensive family of safety modules allow safe positioning and motion. Besides digital expansion modules, an analogue expansion module is available now. The two-channel Safety-M modular EMIO SAI.200 module is used for monitoring voltage, current and temperature signals (Pt 100 from -200 to 850°C).