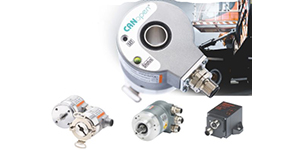 The exact control and monitoring of positions in machines require highly-accurate position information: the sensors used to this purpose must in the same time be cost-effective, have a robust construction and the highest measurement repetition rate possible. Kubler sensors, with their mature technology, are a solution for accurate measurements that is both cost-effective and easy to integrate, especially for use in the mobile automation.
With their sturdy construction and their robust Safety-Lock bearing design, the Kubler Sendix encoders are particularly suitable for outdoor applications. The robustness of these encoders appears not only in their construction, but also in their wide temperature range from -40 to +85°C and in their high protection level ranging from IP67 up to IP69k. The portfolio includes both magnetic and optical encoders.
Various sized, from the compact 36 mm encoders up to standard 50 mm and 58 mm encoders provide the customer with versatile solutions. The devices are equipped with usual interfaces or with analog outputs. The compact 36 mmsize encoders are approved in compliance with the e1 criteria of the Kraftfahrtbundesamt (German Federal Motor Vehicle Transport Authority).
The topic of Functional Safety is gaining increasingly importance, also in the mobile automation. Kubler offers here two solutions. Either with the redundancy of two standard multiturn encoders with a through hollow shaft up to 15 mm or with a Sendix SIL encoder certified from SIL2/ PLd up to SIL3/PLe. The Sendix encoders take in charge the tasks of an accurate angle measurement among others for ring gears, booms and operator baskets.
Kubler draw wire systems are an easy-to-install solution for safe angle and position measurements. The draw wire systems are available in various designs and measuring lengths (from 0.3 m up to 42.5 m) with many different mounting possibilities. Their robust construction and high protection level ensure safe and reliable operation.
Moreover, some of the draw wire systems are equipped with a stainless steel measuring wire. The draw wire systems can be combines with an analog output or with encoders. Running speeds from 0.8 m/s up to max. 10 m/s distinguish the various draw wire systems from one another.

Inclinometers for safe vehicle leveling

Kubler inclinometers allow the accurate leveling of the vehicle chassis. They determine the angle with respect to the ground in one or two axes. Two variants are available: inclinometer IS40 with analog output and inclinometer IS60 with CANopen interface.