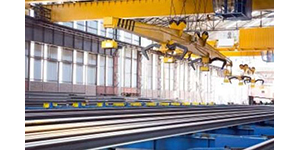 The new safety product line from Kubler is modular for simple integration and device programming is easy to master. The Safety-M series can and will continue to expand.
The modules are clearly suited for defined applications as well as for complex automation tasks. They provide an uncomplicated solution for all situations. Through their scalability they are the solution for applications, also they offer the safety for the next modernization or expansion phase of the machine.
Savings gained
With older machines, there are always several arguments for and against re-utilization. Furthermore, one asks which costs and realistic uses are there and how economical is it to rebuild a machine in comparison with a new acquisition.
Still a greater unknown to be added to the calculations due to the conversion of control and feedback control systems is a new machine safety review will be required. Here the cost of safety engineering that previously showed potential savings may not reach the break even point. Whether a machine upgrade pays off, lies also in this context.
For also such a commitment, rebuilding or retrofitting a machine, to a customized and functionally well outfitted new investment, the safety module Safety-M compact offers the required precision fit. The increasing popularity of a always larger SPS makes this perfectly clear. An example can be made with the optional OLED Displays, which will actually will take over the local display and service functions.
With the new safety modules, one finds every automation function for your corresponding solution. They can be centralized together in a single control enclosure, separated in to many enclosures with cross communication, or in a decentralized installation.
Efficient gantry crane operation
As an example for possible application for the new series we are using a foundry. Some processes and technologies found in an iron foundry have fundamentally not changed in the last 5000 years, but with the employment of machines new development has escalated. The use of gantry cranes, in a foundry, account for enormous work savings. They handle really dangerous, glowing-red, molten metals, that are up to 1600° C, and weights of hundreds of tons, with precision and safety.
There are also workers and machines in the same area as the gantry cranes. According to EU Work Equipment Directive the electrical and hydraulic machine control operation must be of the highest safety level. In accordance with the European Standard EN ISO 13849-1, "a failure of a machine control will not lead to a compromise of any safety related functions." It must "before hazardous movement develops" and "any movement of a machine in a failure recovery condition" will be halted.
These directives apply not only to new machines, but also, without restrictions, to older used machines. When the electric and hydraulic controls do not comply there is the alternative of upgrading or removing the machine from service. One central element of the gantry crane is the modular safety technology that will process all control signals.
Safe interplay between personnel and the machine - gantry crane application
With the backdrop of global marketing; compatibility, safety, and the highest level of machine up-time will be important factors. With the development of the modular component series Safety-M from Kubler one has the three core aspects coming together: increased safety, less complicated integration, and highly affordable.
These come from such areas as lift equipment monitoring units, they insure overload protect, from a thyristor based frequency converter, with a frequency converter controller for the traction drives, and finally from a robust SIL encoder on the drive motor, all together they monitor the crane's hoists. In the steel industry the high machine up-time pays off.
This high machine uptime is what is offered by the Safety-M modular with the ASI SystemBus. In the case of a single module failure or when an affected work area must go off line, the central controller continues to operate dependably.
Product Series Communication
All modules in the series are highly communicative: their interface diversity reaches from Fieldbus with CANopen, PROFIBUS DP over industrial grade Ethernet like PROFINET, EtherCAT, EtherNet/IP to PROFIsafe and further. In spite of their compact housing size, from the basic module they offer considerable performance. Up to eight digital inputs and outputs allow for a multitude of device connections for data flow and through an expansion module one has the possibility for further essential expansion.
The performance spectrum from the 22 different safety modules combined with safe and standard inputs and outputs for light barriers, physical access controls, emergency stop switches, signal lamps, safe isolated relay contacts, and of course various speed sensing switches for the optimal coverage of all power unit safety-specific functions and with different sensor interfaces.
The new lineup offers all around safety solutions with expanded automation functions. Thus, they are suited for conversion and retrofitting as well as new machine designs and without extensive programming.