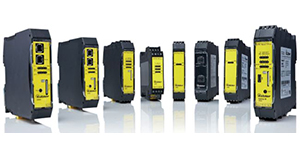 Kubler is offering safety solutions since 2009. Its product range includes, besides the certified Sendix SIL encoders, also Safety-M safety modules. The Company now presents, in co-operation with Bihl+Wiedemann, a new generation of safety modules.
Kubler and Bihl+Wiedemann started co-operating about 18 months ago. "Kubler's goal is not to offer its customers simply components, but solutions. This also applies to the functional safety sector. We got now one step closer to this goal, among others with the new Safety-M Modular safety modules and with a jointly developed axis expansion module" declares Jonas Urlaub, Safety Technology Product Manager at Kubler.
The new safety modules generation includes basic and expansion modules that meet the requirements of SIL3 in compliance with standard DIN EN 61508 and PL e in compliance with standard DIN EN ISO 13849-1 and are UL certified. As compact safety controllers, the basic modules take in charge, among others, the speed and position measurement tasks with master functionality. Two variants are available: Basic modules with and without gateway. All basic modules have a removable chip card that saves the configuration data. The front side status LED and the plain text display on the gateways allow easy local diagnostics. And, in addition, the Safe-Monitor software allows in-depth diagnostics.
All devices are freely programmable and can process drive-related safety functions as well as emergency stop switches, two-hand controls, light barriers, operating mode selectors and other safe control devices. The basic modules can be combined together and ensure safe communication with each other. The AS-i master functionality allows flexible control cabinet design. The expansion modules ensure safe position and motion monitoring. Besides the axis expansion modules, the products range also includes expansion modules for safe inputs and outputs. Also these modules have a removable chip card that allows saving local data.

Axis expansion module for simple encoder connection
"The EMAA module for axis expansion has been developed in co-operation with Bihl+Wiedemann. It allows the straightforward connection of encoders. This ensures easy reading of the encoder data" explains J. Urlaub.
The axis expansion modules can be connected to both incremental and absolute encoders. A module can monitor up to two axes. "The firmware of the devices integrates comprehensive speed and position-related safety functions for drive monitoring in compliance with DIN EN 61800-5-2, for example SS1, SS2, SOS, SLS, SDI, SLA, SCA, SSM, etc. For safe speed and/or position measurement, they support 1-encoder solutions, for example with certified Sendix- SIL encoders, and 2-encoder solutions, that is to say a combination of whatever encoder technologies," continues the Product Manager.
Buttons located on the front side allow teaching in the rotary speed. Machine parameterizing is simplified, as no gear factor or transmission ratio conversion is required. "The expansion modules with safe inputs and outputs are especially suitable for connecting safe sensors such as light barriers, laser scanners and emergency stop buttons" according to J. Urlaub.

The various devices are available with potential-free relay contacts, safe inputs and optionally with standard inputs and outputs. Modules with high protection level are available as options.
New speed monitoring device
Kubler expands its safety portfolio further with the Safety-M Compact device. This is a speed monitoring device in a compact design with a removable operating and diagnosis display. Its safe inputs and outputs and the integrated signal splitter make it suitable for integration in existing safety circuits.
"With this product, we respond to a request of our customers having older machines that need substantial modifications to meet the requirements of Machinery Directive 2006/42/EC. With Safety-M compact, we offer them the possibility to upgrade their safety technology in a very simple way" illustrates J. Urlaub, who goes on: "In cost-sensitive plants, it is not only the easy upgrading that is important, but also the economic aspect of a high-quality speed monitoring."
The integrated encoder signal splitter allows doing without external wiring. Moreover, the easy forwarding of the data to the controller of to the frequency converter is ensured. Also the firmware of this device integrates comprehensive speed-related safety functions for drive monitoring in compliance with standard DIN EN 61800-5-2, for example SS1, SS2, SOS, SLS, SDI, SSM. "The in-depth diagnosis function allows achieving SIL3 in compliance with standard DIN EN 61508 and PL e in compliance with standard DIN EN ISO 13849-1 with a certified encoder," according to the expert. The encoder interface supports SinCos, TTL/RS-422 and HTL/Push-pull, as well as proximity switches.
Up to two safe encoder connections can be achieved for every axis. Four or two safe inputs and eight or two safe cut-off channels are available. The 4 mAC20 mA analog output provides fast internal speed signal conversion. As an accessory, Kubler offers a removable OLED touch screen with plain text display. It allows carrying out local diagnostics and parameterizing without PC software.
The font side status LED shows at any time the operating status of the device. Contact multiplication or contact reinforcement by means of external contactors combined with integrated cross short-cut monitoring (EDM) is possible.
In conclusion
"With our safety services range presented last year, our Sendix-SIL encoders and the new safety modules, we offer a wide range of products relating to functional safety. Kubler thus establishes itself as a specialist for safe motion and positioning on the market", concludes J. Urlaub. The new modules will make their first official public appearance in November, at the SPS IPC Drives fair in Nuremberg.