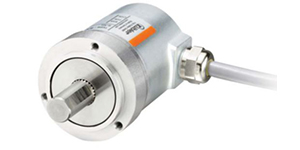 Mobile automation, wind power plants and maritime applications place particularly high demands on sensors. They must withstand temperature fluctuations, dust, humidity as well as shocks and vibrations. Extremely robust magnetic multiturn encoders with reinforced mechanics are now available precisely for such harsh environments.

Thanks to their robust bearing structure in Safety-Lockplus design, the Sendix M36R encoders withstand installation errors, shocks and vibrations. Their protection levels IP66, IP67 and IP69K ensure reliable operation in harshest environments. This high protection is achieved thanks to a mechanically protected shaft seal.
The bearing load of this encoder reaches the strength level of that of the 58 mm-size encoders. Extra large bearings ensure the high permissible bearing load. This encoder is equipped as a standard with a sturdy die-cast housing. In addition, its wide temperature range of -40 up to +85°C contributes to its high resistance.
Energy Harvesting Technology
This magnetic encoder includes the socalled Energy Harvesting Technology. This technology allows measuring reliably the number of revolutions in case of power failure. The required energy is generated directly by the magnetic field put in rotation when the encoder rotates. The advantages are obvious: this technology allows doing totally without gear and battery.
In addition to underlining the compactness and long service life of the encoder, this feature also enhances its cost-effectiveness, which plays a major role in cost-sensitive applications. Its compact size of only 42mm allows installation even in tight mounting spaces.
This encoder is available in solid shaft version and, thanks to its magnetic scanning, it is insensitive to dust and condensation. For even more robustness, a stainless steel variant is available. In this variant, all externally accessible metal parts are made of F4A stainless steel, making the encoder suitable also for offshore applications.
38-bit Total Resolution
With a total resolution reaching 38 bits resulting of the combination of a multiturn encoder with max. 24 bits and a highly-accurate singleturn stage reaching a 14-bit resolution, this encoder has a versatility that opens up many new possibilities. It is equipped with a CANopen interface or with 4 to 20mA or 0 to 10V analog outputs. There is also the possibility of an SSI interface. Various connection possibilities are available: radial cable outlets with a standard length of one meter or special lengths (2, 3, 5, 8, 10 or 15 meters), up to a radial M12 connector.