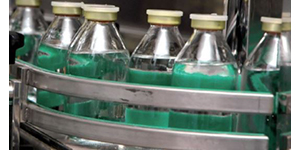 Labeling, filling, cleaning: all these operations are daily routine for the operators of a beverage bottling plant. But a broad trend towards individual packaging forms leads to increasingly frequent production changes and fast cycle times on machines and plants, and therefore to specific processes using individual parameters for every single object. And, as all functions are closely interlinked, even the smallest malfunction causes the stop of the whole production.
The implementation of ever newly adapted quantities, flow speeds, temperatures and concentrations allows this branch to save time and costs. Slip rings transmit here all important information elements, signals and loads, with full reliability and long service life.
In industrial automation, and also in the packaging machine industry, many applications require the transmission of power and data between rotating and stationary systems. Fixed cable connections can only be used for systems with small rotation angles. But, if continuous rotational movements are necessary, slip rings are the ideal solution. Besides sliding contacts for transmitting manageable data volumes, non-contact rotary connection using an inductive coupling are increasingly demanded in order to achieve absolute wear-free operation.
With its modular structure, the variety of materials used and an innovative contact technology, Kubler's slip ring family brings the optimal preconditions for many different uses in beverage bottling plants. For example, the requirements for operation in the wet area of a bottling plant are: no contact and no maintenance. Here, when filling and cleaning, the use of pressurized water and chemicals poses very specific demands on the transmission components used. For this environment, Kubler offers fully encapsulated slip rings in a stainless steel housing.
But also the more cost-effective glass fiber reinforced housing variant out of sturdy polycarbonate efficiently prevents the penetration of humidity when operated in wet areas. The non-contact transmission technology moreover guarantees smooth and trouble-free plant operation. Innovative contact materials can do totally without oil. In addition, smooth and absolutely straight surfaces allow for a particularly easy cleaning. The non-contact structure also protects against abrasion dust and dirt, therefore increasing notably the service life. Kubler slip rings stand up to 500 million revolutions without any problem. This corresponds to many years of maintenancefree, reliable continuous operation. Production changes become a simple everyday child's play.
The flexible and cost-efficient slip rings also show their strengths in dry areas, for example for the labeling operation inside of the bottling plant. Developed as a modular system, they can be configured optimally according to every requirement and application area. In the dry sector, focus has been set on a flexible mechanical construction and on the variety of the mechanical integration options reaching from the special flange, specific media feedthroughs with up to 20 different transmission paths up to a particular robustness thanks to its new Safety-Trans design.
More individuality, more parameters
Beverages are special consumer goods. Even the omnipresent Facebook counts three beverage companies in the top five of its preferred brands. In Germany, after epic and confusing discussions and controversies about the deposit on drink cans, the sale of beverage cans resumed its increase since 2011. And we even accept them as friends in Internet forums: fan variants have been created especially for the soccer world championship, as well as half liter cans bearing the German flag.
But the cult around packaging does not stop at the cans. The whole foodstuff industry is achieving impressive growth figures. This is due to a trend that concerns many sectors of society, but that is leaving particular traces in the beverage industry: individualization. The rule for beverage packaging, cans, bottles, either out of glass or PET, is: only a drink with an image is a sought-after drink. This means that whoever wants to sell his product has to place it on center stage. The more individual the shape of the bottle, the better the chances to be remarked among the competitors.
Slip rings and their individual tasks
For the packaging manufacturers, the frequent type changes mean today that, in spite of an increasing total production, they have to produce always less identical products. The machines that produce, fill or make up these packagings therefore must be increasingly flexible and carry out their tasks with the same individuality as that of the final products they are manufacturing.
The daily operation of beverage machines depends today more than ever on accurate calculations for every production run setting. All used components have to take part in this process optimization. At any time, all sensors, actuators and drives of the plant provide, thanks to their direct connection with the control system, transparent process information.
The slip rings operated in this environment ensure the fast and trouble-free transmission of large data volumes, also in real time. They furthermore must require little maintenance and remain available during the increasingly short production change times. For example, the communication of the blow molders and the bottling machine or the switching between a wide range of container shapes, types and sizes, must be as fast as possible.
A new era for packaging machines
Wherever particular hygiene regulations are to be implemented and therefore wear, maintenance and cleaning play a particular role, the operators are looking for wireless alternatives. But large wireless or RFID solutions are linked with susceptibility to disturbances or inflexibility. So, according to Kubler, especially in the foodstuff packaging industry, there is no alternative to slip rings in terms of safety and longevity.
Maintenance-free and hygienic slip rings are supporting today a brand new plant generation. They score with resistant materials in the drive unit, smooth straight surfaces and new contact materials for all interfaces, connections and seals. Totally contact oil-free components such as the Kubler slip rings offer a particular resistance against dirt or dust deposits. And their flexibility and easy installation with expansion possibilities provide sound arguments for their respective fields of application. Load, signal and data channels can be combined and assigned at wish; also an air feed-through is possible. Connecting screws and anodized aluminum elements help reducing the installation time to a minimum.
With cutting-edge technology for material resistance
Kubler slip rings distinguish themselves by "Safety-Trans" and combine long service life and notably extended maintenance cycles. A special two-chamber system separates load transmission from signal and data transmission. An integrated labyrinth seal combines internal dust protection and electrical insulation between the load and signal channels. Since it increases the clearance and creepage distance to ensure electrical insulation, the signal contacts are reliably protected against abrasion dust. The contact brush mounted on the housing ring and the high-quality precious metal alloy of the contact rings guarantee reliable data transmission.

Minimized maintenance thanks to the customer interface

No lubricants, no joints, perfect surfaces and corrosion-resistant materials belong to the basic requirements of the foodstuff industry. In this environment, Kubler's fully encapsulated system offers suitable plant protection and complies with all approval requirements. In contrast to the open kit slip rings available on the market, Kubler relies on this complete protection for its whole slip rings family.
Many of the innovative technologies and materials used have their origins in direct practical use and in intensive exchanges with the customers. However, solving problems on site often is not as easy as it seems first in the theoretical concept phase For example, chemical compatibility does not automatically entail a high IP protection level, since it is not only the chemical resistance of the materials that ensures high availability and long service life.
Even if a housing seal resists easily acid disinfectants, it does not necessarily withstand the jet of a high-pressure cleaner. Kubler slip rings are combining as far as possible all relevant protective factors. High IP protection level, material resistance and wear protection are closely intertwined.

More packaging, but rather zero "undesirable" content

While for the beverages themselves the slogan is still "less is more" and the content of bottles, cans or cartons includes practically no more additives and zero or only little calories, the opposite trend applies to the attention paid to their packaging. The times when water and brandy were bottled in standard bottles seem to be definitively over.
Thanks to the perfect combination of high-quality materials, good IP features and an appropriate priceperformance ratio, slip rings contribute significantly to the safety and the high availability in demanding and complex applications in bottling plants. Slip rings are used in countless sectors of plant construction, in textile machines, cranes, bottling plants or rotary indexing tables for the rotary transmission of electrical currents, signals and data between rotating and stationary components.
The broad variety of variants, high-quality materials and alloys, comprehensive combination possibilities and their particular robustness make the slip rings from the Company in Schwenningen the specialists for a wide range of applications.