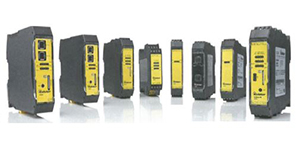 Modernizing machines often requires adapting the safety technology. A modularly designed scalable safety system allows creating safety solutions that will grow together with the respective tasks.
The functional ("built-in") safety is an essential element of modern production machines and plants, achieved by the implementation of suitably certified components and monitoring processes. The decisive aspects are, besides the best safety possible, an integration as straightforward and flexible as possible and the affordability of the technical safety solution.
Against the background of a globalized market, the best machine availability possible is becoming increasingly important. Nevertheless, the technical safety retrofitting of old machines required by new provisions or new technical possibilities, e.g. for more energy efficiency using power supply or regenerative units, can be sometimes problematic. In such cases, for example the adaptation of the control and regulation technology generally also requires a new safety assessment of the machine - however, the costs of the safety technology shall not reach a point where they would neutralize the possible energy savings.
The second generation of the modular safety technology products range Safety-M compact presented by the sensors specialist Kubler from Villingen-Schwenningen suits ideally for modifying or retrofitting machines, as well as for the tailor-made technical safety equipment of a new plant. Together with the intrinsically safe encoders of the Company, which are certified for safety levels SIL2 and SIL3, and with perfectly adapted services, these modules provide a technical safety solution for virtually every automation task, whether centralized in the electrical cabinet or distributed in several cabinets, with cross-communication, or even completely decentralized in plants.
Flexible modular system
Kubler's Safety-M compact safety range consists in basic modules with up to eight inputs and outputs for safe rotary speed and position monitoring of up to two axes and of currently 22 different expansion modules allowing decisive expansions of the range of possibilities. The modules offer various combinations of safe and standard inputs and outputs and allow connecting components such as light barriers, access control, emergency stop buttons or signal lights, safe potential-free relay contacts or safe speed monitoring devices, for an optimal coverage of all drive safety functions using different encoder interfaces. Communication modules ensure the communication with the higher-level controller.
The various interfaces range from field bus systems such as CANopen or Profibus DP, over Industrial Ethernet systems such as Profinet, EtherCat or Ethernet/IP, up to safety-oriented protocols such as Profisafe. Programming the system is therefore much easier than programming a determined safety PLC. Optional OLED displays provide for further local display and operating possibilities. So this scalable solution achieves for relatively low cost individually adapted global safety solutions that can grow with their respective automation tasks.
These modules are suitable both for retrofitting and modifying machines and for new machine designs, and they allow implementing simply, without great programming work, even complex automation tasks. This cost-effective solution is used for example in iron foundries to protect full gantry cranes that handle red-hot liquid steel with a temperature reaching 1,600 degrees C or loads of several hundred tons.
As these operations are extremely dangerous for men and machines, the electrical and hydraulic controls must comply with the highest safety level. This is why the safety technology processing the electrical and hydraulic control signals is a central element of the gantry crane. The high demands placed on machine availability in the steel field predestine the robust SIL encoders for use on the lifting motor, as well as the Safety-M modules on the AS-i system bus, which has to go on working reliably even in case of the breakdown of single modules.