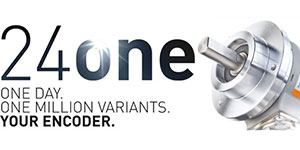 Whatever the application, the optimal encoder must both allow easy, error-free and fast installation and have the appropriate resolution and interface. Moreover, the encoders must be particularly robust in order to operate reliably even in harsh environments.
These requirements mean one thing for encoder manufacturers - they have to offer a wide range of variants, so as to prevent the user from making any compromises in its configuration or making himself changes at the encoder.
This requires:
Perfect mechanical connection to the shaft of the application, perfect electrical connection thanks to the right cable, with the right length and the right connector. Without forgetting the right resolution and the right interface.
Offering and manufacturing this range of variants in shortest time poses a great challenge to encoder manufacturers. Otherwise, users must fall back on a few types kept in stock.
Kübler has taken up this challenge and increased significantly its range of variants of the incremental Sendix 5000 / 5020 encoders, and even completed this with a unique service - 24one delivery promise.
This makes more variants in terms of flanges, connectors, cables, cables with connectors, resolutions and important options such as e.g. salt spray protection available to the user.
If the user makes use of the 24one delivery promise, the configured incremental encoder is manufactured and made ready for dispatch the same day.
The 24one delivery promise is the result of lean and simplified processes and of the optimization of the organization all along Kübler's order delivery process. All this is backed up by the Kaizen culture practised for many years.
The added value for the user is obvious.
Tailor-made encoder for the application
More flexibility thanks to minimum manufacturing time
More planning security
In case of emergency, machine downtime is reduced to a minimum.