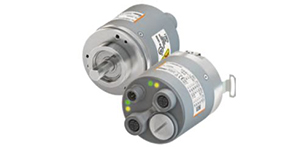 For time-critical and cost-sensitive applications: Sendix F58 EtherNet/IP encoders
Industrial Ethernet is increasingly imposing itself as the communication standard in automation technology. The goal is to achieve vertical integration - that is to say, one single calculator core from the supervisor level up to the industrial production plants - in order to be able to control any piece of equipment.
Availability and performance are of great relevance especially for timecritical and cost-sensitive plants. Based on these requirements, Kubler is expanding its Industrial Ethernet encoder portfolio. Besides Profinet and EtherCAT encoders, Ethernet/IP encoders will from now on enrich the products range.
More performance
The optical absolute singleturn and multiturn Sendix F58 EtherNet/IP encoders with a diameter of 58 mm have been designed for time-critical applications. In addition to supporting plant performance and availability, their specific features also greatly contribute to save time and costs.
Equipped with their robust Safety-Lock bearing design, these encoders withstand installation errors, shocks and vibrations. Position value transmission is 5 times faster than common market encoders, therefore ensuring more performance. RPI time is only 1 ms. This feature allows operating this encoder in time-critical applications up to a 1,000 Hz update frequency. The short starting time, below 500 ms, is another strong point of this encoder. It takes place immediately after applying the supply voltage. So, nothing stands in the way of an increase of plant performance, of plant availability and of the reduction of costsensitive standstills.
Cyclic services allow fast and easy commissioning and configuration, saving costs and time. Thanks to the implementation of DLR (Device Level Ring) a single cable break does not lead to plant stoppage. Ring redundancy is ensured. These absolute singleturn and multiturn Sendix encoders are available in solid shaft or blind hollow shaft version. The blind hollow shaft has a diameter of 15 mm. Their IP65 protection level and their wide temperature range from -40°C...+80°C allow operating these encoders reliably also in harsh environmental conditions.
Thanks to their optical sensors, these devices are 100percent insensitive to magnetic fields. Total resolution is 32 bits. The devices are ODVAcertified. The Sendix F58 EtherNet/IP encoders are used for example in the following applications: automotive production, logistics, metal processing, textile, printing and packaging machines.
Sendix ATEX/IECEx encoders for explosive atmospheres now available in hollow shaft variant
Explosion protection is a particularly safety-relevant obligation of many industries and branches. In areas such as the mining industry, high plant availability and best protection possible for men and environment have highest priority.
Here, the measuring devices in charge of positioning tasks must fully meet strictest protection regulations. As an encoder manufacturer, Kubler is offering a wide range of explosion-proof encoders. The position and motion sensor specialist is offering two different series.
The series 70xx and 71xx
Both series include incremental, absolute, field bus encoders and encoders certified up to SIL3/PLe. Until now, both series were offering only solid shaft encoders. From now on, both series will be available both as solid shaft and as hollow shaft variants. The hollow shaft version ensures optimal installation, in particular in tight mounting spaces. This type of mounting allows a smaller installation depth than solid shaft encoders.
Thanks to their certifications, the Sendix ATEX/IECEx encoders can be used internationally. Its compliance with international standards allows Kubler's Sendix ATEX/IECEx encoder family to meet successfully the increasing market challenges. The 70xx/71xx series of the Sendix ATEX/IECEx encoders covers a range of safety aspects.
Thanks to their flameproof encapsulated stainless steel housing in Safety-Lock design, they are approved for zones 1, 2, 21 and 22. Their wide temperature range of -40 to +60 °C and their high IP67 protection level ensure reliable operation and highest safety against field breakdowns.
These features ensure the total saltwater resistance of these encoders, making them suitable even for offshore plants. With its M2 certification, the 71xx series is approved and particularly suitable for use in the mining industry (above-ground/underground). This series decisively reduces the existing explosion hazard in this branch.
Sendix F5868/ F5888 absolute encoders now available with the standard Modbus (RTU) interface
With the new Sendix F5868 and F5888 encoders, Kubler complements its F-Multiturn family products range with robust highresolution Modbus encoders with a through hollow shaft up to 15 mm for a compact size of only 58 mm. This through hollow shaft leaves, for example on drives, many possibilities for other motor options located behind the encoder.
These gearless optical encoders are based on the innovative and patented Intelligent-Scan-Technology. Modbus is an open protocol that developed in the industry to become a de facto standard. Data transfer uses three Modbus variants, ASCII, RTU and TCP, each of them being suitable for different tasks. The transmission systems can use either Ethernet or the older variant of the serial connection. The Modbus variants use a common application protocol. This makes a simple implementation possible in the industry.
The RTU communication profile transmits its data through the serial interface RS485. Therefore, Sendix F58 encoders equipped with this interface are easy to install and can be used in the following applications: general automation technology, packaging machines, wind/solar power plants and drive technology.
Thanks to the complete integration of the singleturn and multiturn functionality on an OptoASIC, the encoder is 100 percent insensitive to magnetic fields. With a multiturn and a singleturn resolution of 16 bits each, this encoder achieves a high total resolution of up to 32 bits, ensuring the compatibility with the Modbus profile.