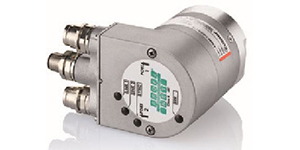 For use in an industrial environment, Ethernet rotary sensors need to be based on a tried-and-tested concept, rugged enough for industrial applications while also being flexible and compact. A new EtherCAT rotary sensor is capable of functioning reliably under harsh conditions, and therefore satisfies the challenging manufacturer requirements in respect of EtherCAT-based systems.
For most of us, this is everyday life: the morning drive to the office, the weekend excursion to the countryside. We get into our car, and off we go. ASC, Anti-Slip Control, takes control of the wheels and prevents them from spinning even when accelerating sharply. ESP - the Electronic Stability Program - carefully brakes individual wheels to ensure that our cars remain on course and do not skid.
And that's not all - most of these gadgets abbreviated to just three capital letters - all help to make our cars subtly smarter, while the number of tasks we have to shoulder as drivers progressively decreases. Do you remember with nostalgia that sound of tires squealing around your favorite bend every morning? When was that? Back in the Seventies, the good old car radio was the crowning glory of automotive creation, whereas now a luxury car incorporates about 70 electronic control units (ECUs), all communicating in real-time on a network. Automotive Ethernet with real-time expansion is the new modern standard for vehicle networks.
Ethernet is now the undisputed triumphal leader of the automation process. No topic was discussed more heatedly at recent sector get-togethers and trade fairs than what has become known as the 4th industrial revolution, popularly referred to as Industry 4.0. It throws up scenarios that preempt the future complex requirements of our production systems and machines; primarily analogous to developments on the automotive market.
The forecast would have that machines and systems are becoming much more flexible, more adaptable and, above all, more intelligent. As in the automotive sector, these systems will make contact with us autonomously and they will inform us of what needs to happen next.
Here, Industrial Ethernet with real-time expansion fits the picture perfectly: High data speeds, long transmission distances and - at least in respect of accessories - standardized low-cost wiring and plug connections could open the technology door with end-toend automation. In the short-term, problems that appear almost insoluble are the lack of standardization and the associated incompatibility of the many industrial Ethernet protocols that are currently competing with one another.
Here, we clearly have a new technology that is going places, but it is still unclear which direction it might be taking, and the magnitude to which it might expand. Well then, what does this complex situation mean for modern sensor system manufacturers?
Challenge for manufacturers
The industrial Ethernet protocols range from Profinet, EtherNet/IP, via EtherCAT, Powerlink, Sercos-III to a whole spectrum of others. Rotary sensor manufacturers offer specialist connection techniques for industrial Ethernet, endeavoring to provide the best possible solutions to suit a multiplicity of application conditions.
One should not lose sight of the fact that Ethernet originated in the clean world of the office, and industrial environments therefore present this technology with a real challenge. For use in an industrial context, Ethernet rotary sensors should therefore be constructed on a tried-and-tested basis, rugged enough for industry applications while also remaining flexible and compact.
With its new Sendix 58xx EtherCAT rotary sensors, Kubler is committed itself to modern sensors that draw on mature technology. These sensors have been proven to perform reliably under harsh operating conditions and are therefore able to meet the invariably high manufacturer requirements for EtherCATbased systems. The high levels of reliability and availability of this system are therefore of central significance.
New EtherCAT rotary sensor
To the best of our knowledge, KublerIBs latest generation of EtherCAT rotary sensors, the Sendix absolut, with a position update capability of 62.5 microseconds, delivers the shortest bus cycle time of any EtherCAT solution on the market at this time. This shorter phase enables the Sendix sensors to be used in very dynamic systems.
Important in conjunction with this peak level of performance is the robustness and reliability. A broad temperature range of minus 40 thru plus 85 degrees Celsius and high shock resistance of up to 2500 meters per square second and vibration resistance of up to 100 meters per square second are what make these devices suitable for use in the world of industry. The latest slave EtherCAT stack from Beckhoff (Version 5.01) is integrated in the new EtherCAT Sendix absolut rotary sensor.
In addition, CoE (CANoverEthernet) implements the very latest CAN open profile 3.2.10. These devices also provide dynamic mapping. As well as scaled position, the raw data position can be mapped as a process parameter. Also true of the sensor temperature in degrees Celsius and the speed calculation with prefix - both being mappable parameters.
There is a choice of four units for speed calculation: Steps per second, steps per 100 milliseconds, steps per ten milliseconds as well as RPM. Furthermore, the Gating Time feature enables the time interval to be set for interpolation of the speed value. Two Work Area State registers enables Work Area States to be calculated, yielding results that accurately reflect the process. When downloading parameters to the rotary sensor, a comprehensive plausibility check is carried out automatically.
Winding: Profinet sensor
Kubler Profinet 58xx rotary sensors have been proving their practical capabilities for a long time. Their universal protocol predestines them in equal measure for the automation of production, processes and buildings, across a range extending from high-speed, time-critical applications to complex communication tasks. When used in the drive unit of an ultra-modern cutting and winding machine, Kubler Profinet sensors contribute to machine flexibility, facilitating rapid retooling operations and boosting system availability by cutting downtime.
In this application, the tensile strength required is a critical factor in the winding process, then you add a vast array of materials to the roller, each of which needs its own level of tension. Kubler Profinet rotary sensors use Profinet IO-controlled frequency inverters to communicate the current position of the output shaft, and therefore the current level of torque required.
For rotary sensor manufacturers, Profinet delivers the advantage that it is simple, tried-and-tested and, above all, it is universal - in that it can even be used in safety-critical areas including explosion hazard zones. That makes it easy for this protocol to work seamlessly with the existing Kubler product portfolio of position and movement sensors, currently being developed and expanded systematically into many safety-critical areas - from functional safety to optimization of robustness and reliability. Since 2013, Functional Safety Technology has been one of four in-house divisions at Kubler.
Ethernet? Which Ethernet?
The large number of existing protocols imposes a fundamental decision on the manufacturers of rotary sensors in respect of Industrial Ethernet. Either to invest in a shared platform capable of interconnecting all protocols, and to adapt this platform flexibly. Or to develop customized sensor solutions for specific applications. Kubler believes that the key to providing the best sensor solution in each case is to put the customer first, in the context of each individual sector.
For its core sectors, the company continues to operate each protocol individually. The service component for a sensor system manufacturer, the factor that makes the difference, is the ability to deliver the best possible customer solution.
Service makes the difference
Kubler is currently expanding the service side of its business. This entire business sector is being strengthened and it comprises three pillars. There is a worldwide online service, firstclass expert support from the headquarters in Schwenningen and, parallel to this, on-site service. Customer service at Kubler is in future to share the same delivery standard in Europe, throughout Asia and across to North America.
With implementation of its ambitious Best in Class target in respect of service delivery, the company is seeking support in established technologies. Kubler is applying the same kaizen and lean principles to service that, in the past, it applied to the standardization and leaning down of production and development processes. The online pillar of the business centers around its homepage, containing a full range of information about Kubler Industrial Ethernet components right around the clock.
The range extends from specialist software to simple programming of rotary sensors thru to a comprehensive range of topical daily updates. As well as this online foundation, all subsidiaries and main representative and agency offices around the globe are being trained on the Kubler Service System, with ongoing training provision further down the line.