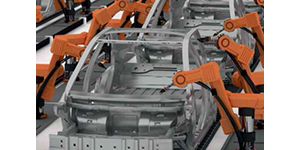 On the way to Industry 4.0, continuous communication via Ethernet plays a major role at field level. Future-proof and cost-effective solutions are requested. So Kubler is complementing its Industrial Ethernet encoder family - which speaks now, besides Profinet and Ethercat, also Ethernet/IP.
Kubler is still in line with its strategy project 2020 and gains market share. This has been reported by Managing Director Gebhard Kubler on the occasion of a press conference. As of August, the Kubler Group based in Villingen-Schwenningen has been achieving a turnover of 55 million Euros in its business fields Position and Motion Sensors, Transmission Technology, Functional Safety and Counting and Process Technology and therefore registers a growth of 9 percent. Kubler estimates "We are also expecting a good turnover growth for 2016." So the Company remains on its longterm path to reach in 2020 a turnover of 100 million Euros - first of all in order to ensure its long-term sustainability as an independent familyowned Company thanks to profitable growth.
Also Building 2 for electronic manufacture and logistics, currently in construction, representing a 2 million Euros investment, will contribute to reaching this goal. The strategy includes, according to the manager, "offering always a whole range of technologies, to be able to offer every time the most suitable one for the application." He calls this "Customer benefit 4.0," on which all innovations shall align. "We want our customers to challenge us. We like this, because it will make us learn and grow."
The Industrial Ethernet encoders, which will be presented at the SPS IPC Drives fair, belong to a comprehensive range of new products. This products group plays a central role on the way to Industry 4.0. Kubler understands this mainly as the integration of Internet technologies in production processes. "On the way to this goal, continuous communication via Ethernet plays a major role at field level" explains Arnold Hettich, Product Manager for Position and Motion Sensors at Kubler. He points out that manifest innovations will be necessary in the existing communication networks to allow new and much more powerful processes to establish themselves. "They must become more available, faster and first of all gigabit-capable. In addition, the increasing number of participants that will sooner or later become unmanageable will lead to further requirements, mainly for safety."
The ever progressing use of Industrial Ethernet requires increasingly network structuring. The main focus of Industry 4.0 is here on connectivity, intelligence and transparency - an important evolution for the industry, which wants to reduce the operating costs and in the same time increase customer satisfaction. Arnold Hettich: "We want so support this evolution with our sensors." After all, Industrial Ethernet is achieving today a market share exceeding 25 percent.
For more than 10 years, is 2nd industrial communication generation has been constantly conquering ground in this highly diverse market The US advisory group ARC is forecasting for the digital platform an annual growth of about 13 percent. These positive prospects are related mainly with the rapidly growing worldwide communication needs in automation, with the fast interaction of the central computers, the regulations and the communicative end devices.
Besides the speed and the robust design of the components, it is the consistency of information reached meanwhile that increasingly outpaces its field bus competitors. If a local network is to act as an industrial field bus, it must meet certain requirements. These include interference-free transmission, an installation technology suitable for the industry and, first of all, realtime capability. Industrial Ethernet is today able to meet these requirements.
Kubler Sendix absolute encoders with Ethernet/IP functions can be configured freely and flexibly by means of cyclic services. "So they are the perfect solution for manufacturers of production machines or plants, as well as for measuring and testing equipment" says the Product Manager. The absolute multi and singleturn encoders in 58mm housing detect positions and measure travels. They are used among others in motor controllers with Ethernet/IP interface.
Signals are acquired and transmitted via the Industrial Ethernet protocol. Accurate cycle times allow calling up real time information as it is required by the processing stations. This increases the performance of the whole plant. The improved diagnostic possibilities for the early detection of critical operating states are another advantage.
Ethernet/IP encoders with many additional functions
The optical Sendix encoders F5868 and F5888 offer comprehensive Ethernet/IP functions and are suitable for time-critical applications. "And, as it is known that stoppages cost money, they can in practice significantly reduce the costs: With an RPI time of only 1 ms, the position value transmission takes place up to 5 times faster than with usual encoders offered on the market" completes Hettich. This confirms the use of this encoder in time-critical applications up to a 1,000 Hz update frequency. With their bearing structure in Safety-Lock design, the Sendix absolute encoders F58x8 withstand installation errors, shocks and vibrations. They also feature a very short start-up time.
Startup takes place immediately after applying the supply voltage and is another element for higher plant performance. So, cost-sensitive stoppages belong to the past. Cyclic services make the fast and easy commissioning and the fast configuration possible.
The implementation of DLR (Device Level Ring) ensures ring redundancy also for the encoders. This guarantees a safe, permanent monitoring of the ring; this way, a single wire breakage does not lead any more to the standstill of the whole plant. For this kind of failures, DLR provides addressing the participants from the other direction, ensuring ring communication without loss of time. In addition, the information about the location of the defective element is communicated immediately to the controller. This allows quick replacement of the damaged cable.
The absolute singleturn and multiturn Sendix encoders are available in solid shaft or blind hollow shaft version. The blind hollow shaft has a diameter of 15 mm. Thanks to their IP 65 protection level and their wide temperature range of -40 to 80 °C, these optical encoders, which moreover feature 100 percent magnetic field insensitivity, can be operated reliably also in harsh environments. These ODVA-certified sensors operate with a very high total resolution reaching 32 bits.
In the automotive production, the logistics as well as in textile, printing and packaging machines, they increase fail-safe operation and plant availability. As from the SPS IPS Drives faire, Kubler will be promising, for the benefit of its customers, the delivery of its incremental encoders within one day.