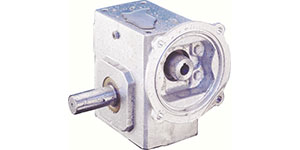 Stainless Steel Gear Boxes Offer A Variety of Benefits
In harsh manufacturing environments, choosing products made from the best materials is imperative to running an efficient and cost-effective operation. In many applications, stainless steel components are the only option. This metal alloy provides a host of benefits over alternative materials.
The initial investment in stainless steel equipment can be costly. While a stainless steel gearbox may cost two to three times more than a cast iron version, in the long run, it proves to be the more economical choice for specific applications. With a life expectancy of up to 100 years, stainless steel can make equipment lasts twice as long as alternative units.
Painted equipment may chip, leading to a surface covered in rust. To avoid this, facilities can repaint the gearbox and incur repeating labor costs, or replace the unit. Because few remedial measures are required with maintenance-free stainless steel, it is often the least expensive material option when total life cycle costs are considered.
Leeson stainless steel gear drives offer superior corrosion protection. Lower alloyed grades of stainless steel resist corrosion in atmospheric and pure water environments and high-alloyed grades resist corrosion in most acids, alkaline solutions and chlorine bearing environments. This is especially valuable in processing plants.
In addition to its functional benefits, stainless steel is also the most aesthetic choice for speed reducers & gearmotors. With managers, customers and government inspectors visiting the facility, its appearance is important. A rusty gearbox gives the impression of a dirty environment, but stainless steel's bright surface provides a clean, attractive look. It is available with a variety of finishes, from a rough casting to a highly polished surface, to offer the desired appearance for each application and, it will continue to look good through many years of service.
In sterile environments, including hospitals, kitchens and pharmaceutical and food processing plants, stainless steel offers a viable solution. It's easy-to-clean surface has no pores or cracks to harbor dirt, grime or bacteria. It is one of the most hygienic surfaces available.
Stainless steel is fire and heat resistant, withstanding scaling and retaining strength at high temperatures. The tough material will also resist impact. In any manufacturing facility, the effect on the environment should always be considered. An environmentally friendly option, stainless steel is 100% recyclable with new stainless steel comprised of at least 50% recycled material.
There are many benefits to purchasing stainless steel gear drives and a variety of manufacturers now offer a line providing different levels of quality. When investing in any piece of equipment there are variables to consider. Stainless steel is available in a variety of grades, with 304 and 316 most commonly used in these applications. Grade 316 is more expensive, but has better overall corrosion resistant properties than Grade 304. It also has higher resistance to pitting and crevice corrosion.
Manufacturers of high-quality industrial gear drives will choose to use 316 investment cast stainless steel for the housing and cover. In addition, they will use the material in all key components, including the shims, output shaft, bolts, plugs and even the nameplate. Ideally, a company will also offer power-matched stainless steel motors. A stainless steel washdown duty motor coupled with the accompanying gear drive is a powerful, high-caliber combination.
The benefits of investing in stainless steel speed reducers and motors far outweigh the initial cost. The longevity and quality of the product will keep machines running smoothly, eliminate downtime and increase revenue. Stainless steel products meet many challenges that aluminum and cast iron cannot.
10 Reasons to Purchase Stainless Steel Equipment
Cost-efficient with long-term value
Low-maintenance, saving labor and repair costs
Corrosion resistant
Aesthetically appealing
Long life expectancy
Hygienic, ideal for sterile environments
Easy to clean
Fire- and heat-resistant
Impact-resistant
Recyclable and environmentally-friendly
LEESON Electric/Lincoln Motors and Grove Gear/Electra-Gear are headquartered in Grafton, Wisconsin, offering AC & DC motors, gear reducers, sub-fractional horsepower motors and gearmotors and AC/DC electronic drives. LEESON Electric/Lincoln Motors and Grove Gear/Electra-Gear products are sold to original equipment manufacturers and distributors by a network of independent manufacturers' representatives, sales offices and international agent distributors. LEESON Electric/Lincoln Motors and Grove Gear/Electra-Gear are subsidiaries of Regal-Beloit Corporation (NYEX: RBC).