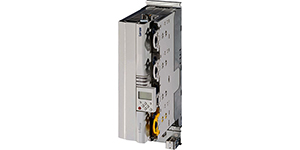 Wachter Packautomatik GmbH & Co. KG designs and manufactures custom automated packaging systems. Incorporating a tailor-made automation solution from Lenze, Wachter Packautomatik replaced a multi-vendor automation system with their own system thereby reducing engineering, commissioning and maintenance costs. As a specialist in ultra-modern packaging technology, Wachter was also able to realize new functions that improve the performance of the machines and cut down on automation components.
Working in close collaboration with Lenze, Wachter Packautomatik managed to increase the flow rate, shorten commissioning times and cut costs. This was extremely beneficial to Wachter's customer, a leading German discounter, that designed a ship-to-store shelf corrugated cardboard (decollete) tray and needed a machine that could pack it.
To make these trays, Wachter modified its Tablomat ST machinery and added a Tablomat D tray erector. The resultant machine folds and glues carton pieces to form the completed shelf packaging, including the cover clip. The carton components are removed from a feeding magazine using a vacuum suction cup, separated, deposited and transported by conveyor belt to the first processing step.
At the heart of this new packaging system are the Lenze components: 9400 HighLine, MCS gearmotor, I/O 1000 and the EL-100 HMI. Lenze 9400 HighLine with Integrated Safety is used for the tray withdrawal, inserter and time stamp, eliminating the need for a separate PLC. The drive-based architecture works with an electronic cam group and a master axis. Synchronizing the master and slave axes, the 9400 Servos communicate with each other via a CAN bus and with the logic components via a second CAN bus. It's fast, flexible and cost efficient.
"We shortened commissioning times by at least 25% and considerably simplified machine maintenance in the new Tablomat D," explains Wachter Managing Partner, Stefan Wachter. "This was a crucial element in increasing the number of machine cycles from 25 to 30." Wachter adds, "the training courses and tailored engineering services from the Lenze support team, further ensured a faster time-to-market and that makes us and our customer very happy."
The comprehensive range of coordinated automation products is one of the main reasons why Wachter chose Lenze. "We have used Lenze gearmotors in previous packaging machines because of their durability and response. Being able to employ their servo drives and controls in this new machine was the natural next step", says Wachter. "Plus the software Lenze designed for us is so modular, we can readily create new variations of the machine as future demands require."
Product Benefits:
9400 Servo, MCS Motor, I/O 1000, EL-100 & VisiWinNET software all-in-one Package
Velocity, Torque, Positioning Control, Electronic Gearing and CAM/Winding
Power: 200/480V up to 350kW
CAN, PROFIBUS DP, EtherCAT, PROFINET, Lenze Systembus Communication