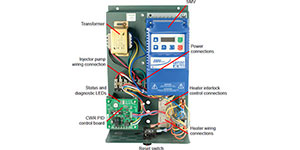 Raypak, the developer of the original low mass, high recovery copper fin tube boiler, is headquartered in Oxnard California. "To address temperature fluctuation, we developed our own Cold Water Run electronic controls that provide constant condensation protection to our boilers," says Raypak Director of Engineering Robert Glass. The Raypak Cold Water Run system consists of a SMVector Variable-Frequency Drive, controls, copper and bronze waterways including the heater pump, and a system-matched, variable-speed pump.
When factory installed, the entire system is weather-resistant. Raypak employs Lenze Americas inverters to drive the variable speed injection pumps in the Cold Water Run system. "We chose the Lenze Americas 3-phase SMV Series power inverter because it offered us a small footprint and unmatched reliability," explains Glass. "Our second choice was also a Lenze Americas inverter, the SCM series. Both drives have the EPM chip that allows for easy field replacements and fast in-house programming which is vital to our product's reliability."
The Raypak Cold Water Run system uses a fixed-speed pump for the primary heat exchanger flow and a variable-speed pump to regulate bypass flow rate. The injector pump protects the heater from continuous inlet water temperatures below the heater condensation point by allowing some heated water from the heater outlet to re-circulate back into the heater inlet.
With all cold water protection systems, setpoint control is crucial. When a "call for heat" is received at the heater, both pumps operate at full speed for up to two minutes and pump all heated water back to the system supply piping. Then the control will reduce the variable-speed pump flow, allowing the primary-pump to pull heated water back into the heater inlet. As the variable-speed pump reduces flow, more water is pulled into the heater inlet until the inlet set point is achieved and a portion of the heated water is pumped to the system supply.
The Cold Water Run control panel consists of a 230 to 24 volt transformer, a reset switch, the terminal strip for the heater interlock connections, a terminal strip for the 230 volt, single-phase field connections, a terminal strip for the 230 volt, 3 phase field connections of the variable-speed pump, the 3-phase variable-frequency SMVector drive, and the proprietary circuit board which includes a temperature adjustment potentiometer and four L.E.D.s that indicate status and faults and two sets of dry-contact alarm connections.
SMVector Series Benefits:
Expertly handle high inertia loads with boost acceleration and slip compensation
PID Setpoint Control
V/Hz, Enhanced V/Hz, Open Loop Vector operation modes
EPM memory chip
Lightweight, compact design for control box
NEMA 1, NEMA 4X enclosures