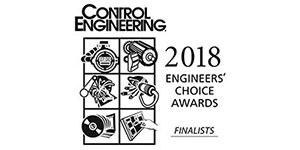 UXBRIDGE, MA, OCTOBER 12, 2017 – Lenze, a global leader and manufacturer of electrical and mechanical drives, motion control and automation technologies, is proud to share that its C250-S Safety Controller has been recognized by Control Engineering magazine as a finalist in the publication's 2018 Engineers' Choice Awards.
The c250-S enables engineers to program all of a machine's safety needs using just one engineering tool – the Lenze PLC Designer which includes Lenze FAST technology modules for ease of programming – for the entire application including safety, based on the PLCopen Safety standard. By integrating the C250-S into an automation system, it will make engineering easier, improve diagnostics, and reduce the number of interfaces and components – ultimately increasing the machine's availability and flexibility.
"We are honored to be named a finalist for this industry-leading award for the third consecutive year," said Daniel Repp, automation industry manager, Lenze Americas. "The c250-S was designed to make the OEM's job easier – and we couldn't be happier to be recognized for this. What makes this designation even more meaningful is that it is our customers who make their voice heard … and we are humbled that our c250-S is providing exactly the function we had intended."
The Control Engineering Engineers' Choice Awards highlight some of the best new control, instrumentation and automation products as chosen by the publication's print and online subscribers. Survey respondents are asked to select products based on technological advancement, service to the industry, and market impact.