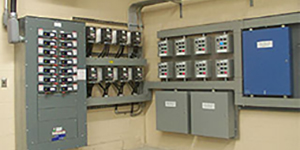 Did you know Lake Ontario cools downtown Toronto? Icy water (4°C/39°F) taken from the bottom of Lake Ontario, is sent to the Toronto Island Water Filtration Plant to be purified, and then forwarded to a heat transfer station. The treated water is utilized to lower the temperature of water used for air conditioning in buildings, and then flows into the city's drinking water pipes. The project, initiated by Enwave District Energy Ltd., presently cools over 20 buildings in downtown Toronto.
The Lake Ontario project begins with three high-density polyethylene pipes, 5 kilometers (3.10 miles) long, that reach 83 meters (272 feet) down to the bottom of Lake Ontario to draw the icy water and send it to purification systems at the Toronto Island Water Filtration Plant. Here the water is screened, pre-chlorinated, filtered, disinfected, fluoridated and post-chlorinated. It continues with the pumps at the heat exchange station, the butterfly valves that control the flow and volume of the water, and AC Tech MC Series Variable Frequency Drives that operate those valves.
Stressing the importance of every component, Pat Cimek, Area Manager for E.S. Fox, the construction specialists hired by Enwave, comments: "In our type of work, there's no such thing as a small detail; everything we use we do because we know it will perform for us." When it was time to spec the VFDs for operating the butterfly valves that control the water volume and flow, Cimek and his team of consulting engineers, turned to E.S. Fox's long-time supplier, Sterling Power Systems.
"As a company, they offer us the advantage of trust; we know they can program and start-up the drives on site," explains Cimek. "We agreed with Sterling Powers recommendation of the Lenze Americas MC Series drives based on their proven quality, performance and competitive price."
It is estimated that the project will save 59 megawatts of capacity to the province of Ontario, which can be translated into the electricity needed to power the air conditioning systems in 12,000 homes. It has also been estimated that air pollution reduction from the system will be the equivalent of taking 4,000 to 8,000 cars a year off the road. Now that's cool.
From the beginning, this project combined the needs of consumers with government and environmentalist's conservation objectives. The execution involved all parties and took advantage of proven, cost-effective and reliable technology. The result was a system that employs available natural resources to reduce energy consumption.
MC Series Benefits:
Automatic Transfer to Bypass Option
PID Setpoint Control
Program Controller as Direct or Reverse-Acting
Keypad Option for Local & Remote Operation
NEMA 1, 12, 4, 4X Enclosures Available
Proven Performance & Reliability