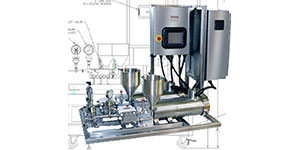 A manufacturer of liquid mixing devices, Sonic Corporation produces in-line, high pressure homogenizing systems used to process liquid emulsions in the Personal Care, Pharmaceutical, Food & Beverage and Chemical industries. These systems incorporate Positive Displacement (PD) pumps including gear, reciprocating, or progressing cavity pumps, that are driven by solid state motors. The solid-state motor is driven and controlled by variable frequency drive (VFD) technology. In many cases Sonic emulsion systems employ several PD pumps on a single skid where various ingredient phases are metered into their Sonolator homogenizer at one time. Ingredient phase ratios are controlled via mass flow meters and VFD control loops.
In one design of the Sonolator homogenizer, Sonic employs a Lenze 8200 Vector Inverter to control the PD pumps plus a PLC control loop to gain accurate flow control of the pump. The accurate control of the pump is paramount to getting the 'mix' just right. Pumping at too high a rate disperses the liquid too quickly and pumping too slowly will not produce the fine particle emulsion.
Rob Brakemen, President of Sonic, confided that the 8200 Vector Inverter was initially chosen purely on an economic basis but adds "we got a robust drive with programmable features and a simple interface for a very fair price." Given its performance characteristics, ease of use and reliability, the 8200 Vector Inverter was the smart choice for inclusion in the Sonolator systems. "It met all our VFD requirements: power range, multiple operating modes, I/O, plus easy access, all at a 20-30% savings compared to competitor's VFD products."
For installation in a multi-feed system quick access and communication are essential. The Lenze 8200 Vector integrates seamlessly into the Sonolator system via a PROFIBUS communication module. It takes commands from the PLC and provides feedback from the motor.
Choosing the Lenze 8200 Vector drive, gives the system PLC real-time feedback on the motor's speed. The PLC calculates the exact vector of voltage and frequency to keep the motor running precisely so the pump runs at optimum flow rate. The multiple operating modes (V/f linear, V/f quadratic, vector control and torque control) of the 8200 inverter provide continuous feedback and correction of motor speed thus controlling the pump so that the various ingredient phases are singularly metered into the Sonolator in the multi-feed system.
8200 Series Benefits:
Multiple Operating Modes: V/Hz, Enhanced V/Hz, Open Loop Vector
Multiple Communication Options: PROFIBUS, CANopen, Interbus, DeviceNet, plus Digital I/O
Current Limiting function for stable operation under both static and dynamic loads
Adjustable slip compensation
Quick access for service and maintenance