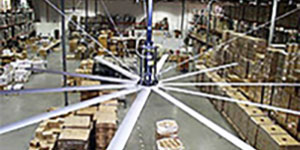 In San Bernardino, California, MacroAir Technologies designs and manufactures air circulation products. One of MacroAir's latest innovations, the six-blade high volume low speed (HVLS) industrial fan outperforms the company's own highly successful ten-blade fan series by requiring 40% less aluminum and 13% less power in its manufacture and it weighs in at 30% less.
"We chose motors with carefully matched gear reducers to provide efficiency, reliability, long life and low noise," says Edward Boyd, MacroAir President. "The compact design and footprint of the Lenze gear motors allow us to do more in less space."
For HVLS fans, MacroAir engineers specified the Lenze GST 05 & GST 06 Gear Motors as well as SCF and SCM series inverters. According to Houston, the GST Series are part of the Lenze Americas L-Force gearing range. "This is an open, modular system that offers many versatile combinations of gearboxes, geared motors, integrated frequency inverters and accessories. They are truly plug-and-drive, easy to handle and easy to integrate."
Engineer Jeff Johnson is enthused about the Lenze GST gearmotors - the quality of the gears, made from case-hardened steel, and the fact that they are helical as opposed to spur. "Helical gearing has the gear teeth cut at an angle in relation to the axis of rotation as opposed to a spur gear where the teeth are parallel to the axis of rotation", explains Johnson, and he continues, "The advantage to a helical is that there is more tooth contact and more of a 'rolling' effect as the gears mesh; with more contact there is more torque and the 'rolling' effect cuts down on the gear noise."
Eight years ago MacroAir started using Lenze gearmotors for their HVLS fans, and their relationship continues to grow. There is good reason, says company president Edward Boyd, summarizing, "Our customers quickly realize that our HVLS fans operate with a degree of dependability that's hard to match. Our engineers demand and value that same unparalleled dependability and our suppliers deliver just that!".
SCF Series Benefits:
Multiple Preset Speeds
Micro Size
Removable Memory Chip (EPM)

GST Series Benefits:
Quiet, Smooth Operation
Energy Efficient
Case hardened Steel Helical Gears
Small Footprint of Gearbox and Motor