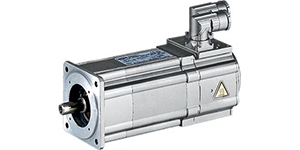 Jacobsen Real-Time X-Ray Machinery, Ontario Canada, a manufacturer of custom x-ray inspection equipment employs Lenze Americas PositionServo in its new MAXIpart™ S-XL (patent pending) and MAXIpart™ ADR-XL, x-ray machines for large parts. Designing a system for use in Germany, Jacobsen required a drive supplier with global reach. Lenze representative, D&O Engineering, provided technical sales and support assistance for the PositionServo drive and MCS motor pairings used in the MAXIpart™ S-XL semi-automatic inspection machine.
The flexibility of the Lenze MAXIpart™ S-XL in accommodating small to very large parts makes it a unique and in-demand machine but it also offers up quite a positioning challenge. With its 64-bit indexing capability, the PositionServo easily handles the 4 to 12 axis variations of the MAXIpart™ S-XL machine.
The Lenze MAXIpart™ S-XL machine is comprised of a C-arm equipped with four axes servo, a part-rotating table with three or four axes servo and a servo-driven sliding door. A resolver based PositionServo powers this eight (8) axis 460 volt system composed of seven MCS09 & one MCS06 servo motors, all with brakes and dual stage planetary reducers. The PositionServo moves the part from point to point as fast as possible. Powerful, precise and prompt.
The semi-automatic MAXIpart™ S-XL interfaces with an operator at the beginning and end of the inspection process. The operator transports the inspection sample manually by crane onto the part-rotating table which moves outside of the x-ray enclosure into part loading position. The part-rotating table is belt edge driven and equipped with interchangeable x-ray transparent plates that hold the part in position.
The inspection system's speed is truly enhanced by the PositionServo's Motion-View OnBoard configuration and control software that makes programming and starting the drive simple and fast. Plus the PositionServo provides an extra measure of control when positioning large parts for inspection with its optional ISO 13849-1 Safety Circuit with 'safe torque off' mode (wherein the drive cannot generate torque in the motor).
Jacobsen chose the Lenze Americas PositionServo drive and MCS motors as an 'all-in-one' solution - an intelligent drive with full PC-based controls capability that is simple to use and simple to control. The PositionServo can act as a 'dummy' drive or communicate up and downstream. Multiple communications protocols (CAN, DeviceNet, EtherNet/IP, Modbus, PROFIBUS) allow the drive to be used globally. The compatibility with Lenze Americas MCS servo motors and a larger system that includes additional Lenze controls makes the PositionServo the right choice for this intelligent x-ray inspection system.
Product Benefits:
Precise positioning control 64-bit Indexing
PositionServo and MCS Servo Motor Package
Global Sales and Local Technical Support
Embedded MotionView OnBoard Software for simple setup and programming
EPM memory chip for quick drive reprogramming or replacement