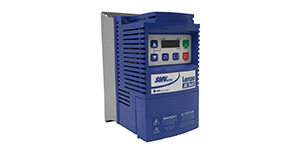 Outdoor Inverter Drives Use Sun Protection

Lenze's new polycarbonate SMVector provides U.V. protection for outdoor use
Lenze's popular
SMVector Range of IP65 Inverter Drives
is now available with a polycarbonate enclosure to provide added U.V. protection for outdoor applications. To guarantee outdoor practicality for the entire range, the larger inverter drives (above 7.5KW) also include IP65 rated cooling fans, protecting them from high humidity and low pressure jets of water from any direction.

The SMV range offers fast dynamic torque response, sophisticated auto-tuning and impressive low speed operation from a compact, low cost and simple to use package. Development of the polycarbonate extension to the SMV range has been driven by customer demand and feedback from the international sales force. The popularity of the existing Lenze SMV range stimulated demand for a product that was more resistant to long term U.V. exposure and would have a far higher operating life in outdoor applications.

The Lenze SMV range provides sensorless vector control that is extremely easy to commission and operate. An easy to use facia keypad and a choice of onboard parameter sets ensure that the basic control and set-up procedure can be completed in seconds. A higher than standard IP65 ingress protection also removes the necessity for a control cabinet in some working environments, and provides additional protection for panel mounting in higher rated control cabinets.
The SMV also features a
Programmable EPM Chip
, essential a memory chip mounted in its own rugged plastic enclosure. It plugs directly into the drive facia, allowing OEM manufactures to copy across an entire operating set in a matter of seconds and commission the drive without having to turn it on. In a product support and maintenance situation a replacement EPM chip can often be used to return a machine to service without calling out a support engineer, or having to commit skilled programming time to re- commission an individual drive.

Standard operating modes include standard and enhanced V/Hz (constant and variable) operation, vector speed control and vector torque control. Motor calibration is via an auto-tune function and a range of communication options are available in order to integrate the smv into a wider machine or plant control network, DeviceNet, RS-485, LECOM, CANopen, Ethernet/IP and Profibus are all available from launch with others being introduced soon.
Keypad with IP65 degree of protection – for example for installation in a control cabinet door. The keypad has a panel of keys for the start/stop function, clockwise/counter-clock-wise rotation, speed selection and an LED display. The keypad can be used with 400V devices. The EPM programmer allows configurations to be conveniently produced or edited offline. The device saves up to 30 different drive programs and is perfectly suited to copying processes. The complete frequency inverter configuration is stored on the pluggable memory chip. Simply replace the module and you can continue with another drive task right away.