Innovative Pump Manufacturer Opts For 'The Simple Life' With Lenze SMD VFD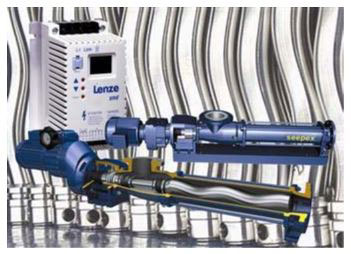 Lenze SMD Drives have been specified by Seepex pumps for supply with its range of innovative progressive cavity pumps. Simplicity of installation and operation was key to the company's decision to specify the range of smd drives varying from 0.75kW up to 22kW. High torque on start-up was also a prime feature of the drives. Since the Seepex design is used frequently to pump highly viscous fluids, the initial movement of the rotor can cause high peak loads and require a large amount of torque to start smoothly from low speeds.

Seepex pumps can be supplied with various rotor/stator geometries in order to pump a wide variety of food stuffs fluids and highly viscous media, with or without solids. Virtually all Seepex solutions are based on the company's progressive cavity design. An eccentric circular cross section input screw performs an oscillating rotary motion along a second stationary stator providing high suction that is virtually independent of speed.
Compared to more traditional impeller pumps, the Seepex design is relatively low speed and also highly efficient. With the recent industry focus on energy efficiency the company required a partner to supply
variable speed drives
in order to maximise on the energy efficiency aspect of the pumping system. The drives needed to be able to handle the high start-up torque of the pumps and operate well at low speeds, but would also be fitted by the same contractor as the pump who is more used to mechanical and process applications, or electrics rather than automation - for this reason the total simplicity of the smd was a deciding factor.
The simplicity of smd set-up starts with the
removable EPM memory chip
, this can easily preprogrammed by the OEM and supplied with the pump, reducing on-site programming and service time by up to 90%. The EPM is just 1cm square and can be programmed and copied independently of the drive. It plugs directly into the front of all smd drives and that means, with simple wiring, commissioning can easily be achieved without specialist knowledge. This was an essential requirement of Seepex since the company's pumps are used in incredibly varied applications, from milk to biodiesel and even whole fish.

Service is also easier because Seepex keeps master copies of each model's operating parameters and in case of any service issues the customer or service agent can simply be sent a duplicate chip in the post. This feature reduces the number of service calls and cost of support massively and so is an ideal solution for the end user, supplier and manufacturer. Lenze also provides a free helpline to support the smd products which has made a difference to the customers more used to industrial suppliers that are difficult to contact, and reliant on slow and expensive site attendance.

Where some fine-tuning is needed on-site simple controls on the front of the drive are provided for speed adjustment and basic programming. The smd drive will also perform advanced functions as part of its standard operating software. These include adjustable slip compensation to increase the accuracy of speed holding with changing loads, voltage boost to improve dynamic response and DC injection braking to bring high inertias to a stop.
The smd range offers 3-phase AC output from both single-phase and 3-phase supply voltages. Lenze AC Tech drive options include DIN rail mounting kits, removable heat sinks for through-cabinet mounting and
dynamic braking units
, which are easily mounted within control cabinets.
SMD drives that have an "L" as the eight character in the model number are compatible with the optional dynamic braking module. This module allows regenerative energies that are fed back into the drive during braking to be displaced across resistors within the dynamic braking module. This allows the drive to decelerate or stop the load in a shorter period of time without tripping the drive into an overvoltage fault.