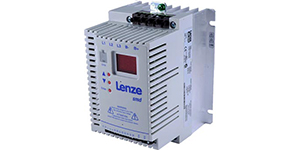 Edge banding is a tricky process. It involves applying a decorative or protective surface to the edges of products made from compressed wood chip and resin board materials.
The applied surface material is often wood-effect plastic on a roll that must be handled carefully due to its weak and brittle properties.
The edge-banding machine prepares the wood surface, unrolls the edge material, applies the glue and then compresses the glued strip to the edge. It then cuts and finishes the ends of each edge.
A combination of Lenze AC Tech Drives provides a pitch perfect solution. Acting in tandem, the PositionServo drive precisely controls the positioning while the SMD/SC inverter drive controls the speed, synchronizing the multiple operations of this complex machine perfectly.
Two servo axes follow a master encoder signal; the two PositionServo drives electrically replicate a drive shaft and gearing in order to match a synchronous fixed speed ratio when applying the edge material.
The speed ratio is logged as a parameter within the control logic of the respective drives. Servo control ensures there is no slippage as belts apply the edge material.
The SMD/SC drives complete the package by controlling the standard AC motors that drive the unwinding of the edge material and the conveyer belt that moves the boards into position. SMD/SC and PositionServo prove to be a perfect team to tackle this sticky situation.
PositionServo Benefits:
Electronic Shaft Following
Easy to Use System
Inverter & Servo Drive Compatibility
Intuitive Setup & Programming
Precise Positioning Capability
Servo Automation at a Highly Competitive Price