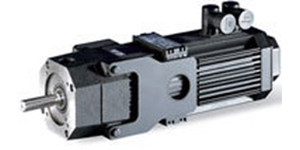 Lenze's Servo Motor with Integrated Spindle marks the introduction of a mechatronic unit which has been designed specifically for welding guns. The high-precision motor opens and closes welding guns significantly faster, more accurately and more smoothly than the conventional pneumatic version.
Because the compact units can be used to control speed and torque with high levels of precision, the quality of the spot welds improves.
The new motor has been designed to meet the requirements of the automotive industry and can be used equally effectively for welding, clinching, stamping or riveting. The servo inverters for the main and compensating drive can either be integrated into the robot control cabinet as the seventh and eighth axis or installed in a decentralised control cabinet.
Lenze supplies servo inverters which can be freely programmed in accordance with IEC 61131-3.
Operating Instructions
The Lenze Servo Motor, which features an integrated ball screw, is a mechatronic unit that has been specially developed by Lenze for use with welding guns, presses and in folding applications. These compact units allow for precise control in terms of speed and torque. Compared with conventional pneumatics, they offer significant advantages from the point of view of speed, accuracy and noise when it comes to opening and closing welding guns, for example.
The spindle servo motors are capable of speeds of up to 3000 rpm and the maximum feed is therefore 250 mm/s. The motors are easily connected to the ECS servo system and to 9300 and 9400 servo inverters. Improved quality and longer tool life - MDSLSBS spindle servo motors can increase your productivity dramatically.
The enhanced technology prevents the copper caps from bouncing on the contacted material. This increases the service life of the tools. Depending on the cycle time, productivity can be increased by up to 25%. The use of electrical drives now also allows easier changes between products thanks to easier and more flexible adaption.
When using electrical drives outside of the robot cabinet, the servo welding gun is relatively easy to adapt to new applications. Only the PLC function integrated in the inverter has to be modified. A range of motion profiles can be stored and selected by the machine operator at the touch of a button.
Lenze's new motor is so compact that it can be used on the wrist joint of a six-axis robot. It can reach a permanent welding force of 7 kN. The maximum force is 15 kN.