Features and Benefits

The Lenze AC Tech SMVector continues our price leadership tradition in the highly competitive AC drive market. Its performance and flexibility make it an attractive solution for a broad range of applications including:

• Food processing machinery
• Packaging machinery
• Material handling/conveying systems
• HVAC systems

The Lenze SMVector VFD makes good its promise of price leadership in delivering unparalleled performance and simplicity. The AC Tech SMVector is the right choice when you need it all – performance, power, packaging and intuitive programming.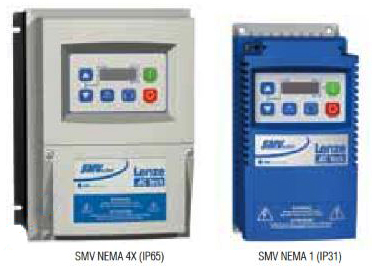 Superior Performance

• Modes of Operation:
• V/Hz (Constant and Variable)
• Enhanced V/Hz (Constant and Variable)
• Vector Speed Control
• Vector Torque Control
• Dynamic Torque Response
• Sophisticated Auto-tuning (Motor Calibration)
• Impressive Low Speed Operation

Flexible Power Ranges

• International Voltages:
• 120/240V, 1Ø (up to 1.5 Hp)
• 200/240V, 1/3Ø (up to 3 Hp)
• 200/240V, 3Ø (up to 20 Hp)
• 400/480V, 3Ø (up to 30 Hp)
• 480/600V, 3Ø (up to 30 Hp)

Industrial Grade Packaging

Simplicity

• Intuitive User Interface
• Electronic Memory Module (EPM)

Two Year Warranty

Electronic Programming Module (EPM)

Program the SMVector quickly and easily using the electronic programming module (EPM). The EPM stores the drive's parameter configuration and simplifies initial setup:

Three ways to program the EPM
• Use the intuitive SMVector integrated keypad
• Program in a Microsoft WindowsTM environment with Techlink
• Or with the lightweight portable EPM programmer. The crystal clear 16-character LCD display makes programming multiple drives a snap.
The EPM saves time and money. It's as easy as 1, 2, 3…
1. Create your parameter profile and archive to the EPM programmer, a master EPM or your PC.
2. Insert the EPM into the programmer and copy parameters in a matter of seconds!
3. Plug the EPM into the drive and it is fully programmed and ready to go.

Imagine programming 20 drives in less than one minute!

• Improve efficiency. Program the drive anytime and anywhere it makes sense during your manufacturing or commissioning process. You can even plug in a fully programmed EPM before connecting the drive to power. Now the drive is ready and waiting for power to be connected.

• Safeguard your configuration. When you program the EPM your parameter settings are automatically archived. This truly unique feature allows the SMVector to be reset to factory default settings or to customer settings.

The EPM. Another example of the innovative thinking that separates Lenze-AC Tech from its competition.

SMVector Performance

Exceptional Starting Torque
Overpower demanding applications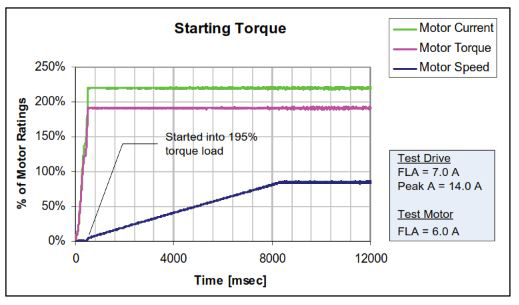 The SMVector is peerless in controlling the motor's ability to convert current into torque. In this example, the SMVector is started into a stiff 195% torque load. Not only does the motor start the load, but it also delivers a full 195% torque while accelerating to 50 Hz in 8 seconds.

Dynamic Speed Regulation
Recovery from 100% shock load in 0.15 seconds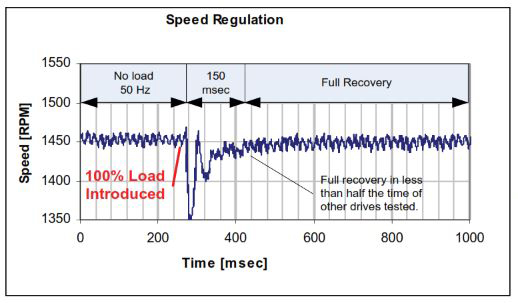 Shock loads are no match for the SMVector. Here an instantaneous 100% load is dealt with in a mere 0.15 seconds. Remarkably, this level of speed regulation is achieved open loop without the benefit of a feedback device.

Quick Acceleration
0 to 100 in 0.33 seconds!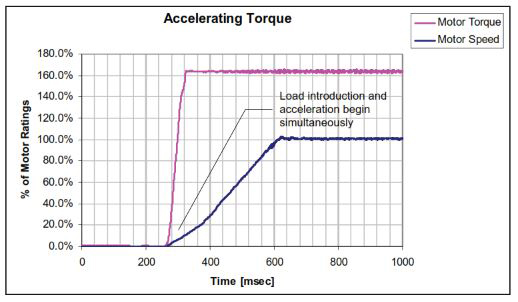 Motors controlled by the SMVector benefit from a sophisticated motor control algorithm that drives motor performance to maximum levels. In this application the the motor is able to drive a 165% torque load while accelerating from 0 to 100% speed in an impressive 0.33 seconds.

The SMV Thrives in Harsh Environments

Plastic Housing/Black Anodized Heatsink
• Light weight and corrosion resistant
• Available for indoor and indoor/outdoor use
Totally Enclosed Non-Ventilating Housing
Compact Enclosures
Optional Quick Disconnect
• Available on certain models
High Pressure Washdown Version
• Can be ordered without keypad and display
Optional Integrated EMC Filters
• Meets CE regulations

SMVector Specifications

World Class Control

Modes of Operation
• Open Loop Flux Vector Speed or Torque Control
• V/Hz (Constant or Variable)
• Enhanced V/Hz with Auto-tuning
Acceleration/Deceleration Profiles
• Two Independent Accel Ramps
• Two Independent Decel Ramps
• Linear
• S-Type
• Auxiliary Ramp-to-Stop
Output Frequency
• 500 Hz Standard
• 1,000 Hz Optional
Switching Frequency
• 4, 6, 8, 10, 12 or 16 kHz
Universal Logic Assertion (Selectable)
• Positive Logic Input
• Negative Logic Input
Braking Functions
• DC Injection Braking
• Optional Regenerative Braking
Speed Commands
• Keypad
• Jog
• Floating Point Control
• Voltage: Scalable 0 –10 VDC
• Current: Scalable 4 – 20 mA
• Potentiometer
• 8 Preset Speeds
Process Control
• PID Modes: Direct and Reverse Acting
• PID Sleep Mode

Vigilant System Protection
Voltage Monitoring
• Low DC Bus V Protection
• High DC Bus V Protection
• Low Line V Compensation
Current Monitoring
• Motor Overload Protection
• Current Limiting Safeguard
• Phase Loss Protection
• Ground Fault
• Short Circuit Protection
Loss of Follower Management
• Protective Fault
• Go to Preset Speed or Preset Setpoint
• Initiate System Notification
Over Temperature Protection

Comprehensive Diagnostic Tools

Real Time Monitoring
• 8 Register Fault History
• Software Version
• Drive Network ID
• DC Bus Voltage (V)
• Motor Voltage (V)
• Output Current (%)
• Motor Current (A)
• Motor Torque (%)
• Power (kW)
• Energy Consumption (kWh)
• Heatsink Temperature (°C)
• 0 – 10 VDC Input (User Defined)
• 4 – 20 mA Input (User Defined)
• PID Feedback (User Defined)
• Analog Output (Speed, Load, Torque, kW)
• Network Speed (Baud Rate)
• Terminal Status
• Keypad Status
• Elapsed Run Time (Hours)
• Elapsed Power on Time (Hours)
Status Outputs
• Programmable Form "A" Relay Output
• Programmable Open Collector Output
• Scalable 0-10 VDC / 2-10 VDC Analog Output

Rugged Environmental Capabilities

NEMA Type 1 (IP31)
NEMA Type 4X (IP65) Indoor Only
NEMA Type 4X (IP65) Indoor/Outdoor
Ambient Temperature
• -10 to 55°C @ 6 kHz
• Derate 2.5% per °C Above 40°C

International Voltages

• +10/-15% Tolerance
• 120/240V, 1Ø
• 200/240V, 1 or 3Ø
• 200/240V, 3Ø
• 400/480V, 3Ø
• 480/600V, 3Ø

Global Standards

UL, cUL
CE Low Voltage Directive (EN61800-5-1) (Europe)
CE EMC Directive (EN61800-3) with Optional EMC filter
GOST (Russia/Ukraine)
C-Tick (Australia/New Zealand)

Two Year Warranty

NEMA1 (Up to 10HP), NEMA4/4x Keypad

Simple Six Button Programming
• Start
• Stop
• Forward/Reverse
• Scroll Up
• Scroll Down
• Enter/Mode
Informative LED Display
Vivid Illumination
Easily Read from a Distance
Five Status LEDs
• Run
• Automatic Speed mode
• Manual Speed Mode
• Forward Rotation
• Reverse Rotation
Status Display
• Motor Status
• Fault Management
• Operational Information

NEMA1 15-30HP Keypad

Additional Control Button
Switch between control modes
• Local-Manual
• Local-Auto
• Remote-Manual
• Remote-Auto
Additional LED Indicators
Define the units being displayed
• Hz
• RPM
• %
• Amps
• /Units

SMVector Connectivity

With optional plug-in communication modules, the SMVector is easily integrated into any one of today's most commonly used industrial networks. Whether the application is to automate a single machine or an entire facility, the SMVector is fully equipped to make the process a snap.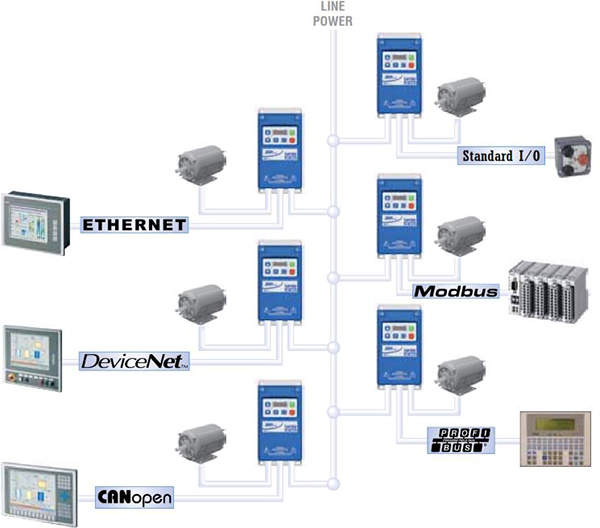 NOTE: Communication options are available in NEMA 1 (IP31) and NEMA 4X (IP65) models.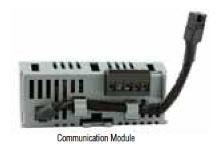 Setting up a drive in a network has never been so simple. Order the Lenze ACTech SMVector and your choice of communication module. Simply snap the communication module into the terminal cover and the drive is ready to connect to the network. Or if the SMVector is already installed it can be easily upgraded in the field.