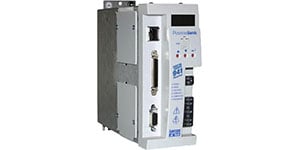 KVAL, a highly specialized manufacturer of door cutting machinery was searching for a better servo drive to improve the cost and performance of its milling machines.
A local automation distributor introduced them to the AC Tech PositionServo.
The challenge finding a cost competitive drive that would fit the existing profile and yet work with legacy servomotors and resolver feedback. The solution was found in the Lenze PositionServo 941 designed specifically for resolver feedback. The Lenze PositionServo 941 was fitted directly to an existing machine and tested immediately in 'torque mode'. The drive performed beautifully from the first application of power and led to substantial orders soon after.
KVAL is recognized as a leader in the design and manufacturing of precision engineered door machining and millwork equipment. Increased competitiveness within the millwork industry has forced many smaller companies to become more specialized. As a result, KVAL had to alter the design and configuration of many of its machines, the ease-of-use and programming of the PositionServo 941 meant that it was a simple solution for varying machine requirements.
Compatibility with the existing machine set-up was very important and since Lenze Americas PositionServo products are designed to work effectively with the widest range of motors, feedback and machine control systems, it was no problem to fit in with components from three other manufacturers.
Cost is an inevitable pressure for any machine manufacturer and KVAL is no different, the fact that the PositionServo provides solid precision performance, but without a price premium sealed the deal.
Product Benefits:
Works with existing servo motors
Easy programming
Resolver or encoder feedback
Solid technical support
Rugged performance in harsh environments
Tight positioning control with scalable emulated encoder output