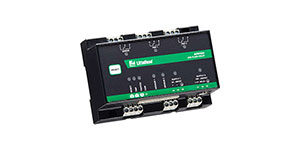 Littelfuse, Inc., the global leader in circuit protection, announces that the AF0500 Arc-Flash Relay is a finalist for Plant Engineering's 2015 Product of the Year Awards honoring outstanding achievements in innovative products for manufacturing.
"The AF0500 is a breakthrough product for plant managers because it combines all the important criteria needed in an arc flash relay —fastest reaction time, system health monitoring, ease of installation, scalability, and application flexibility – to protect workers and reduce downtime," said Jakob Seedorff, Technical Director, Littelfuse.
The relay will be featured in the November issue of Plant Engineering, from which readers will vote for their favorite products at www.plantengineering.com/VOTE2015.
The AF0500 Arc-Flash Relay helps protect workers and equipment from dangerous electrical arc-flash events by using light sensors that allow the relay to sense an arcing fault, respond in less than a millisecond, and send a trip signal to an upstream breaker to interrupt the fault. The reduced time to trip lowers the incident energy and helps plants comply with OSHA and NEC standards for arc flash safety.
Unlike competing relays, the unique sensors used with the AF0500 are equipped with a visual indicator called Heartbeat™ that allows workers to verify at a glance that the sensors are properly operating and protection is active.
Plug-and-play installation and a flexible design simplify retrofits and reduce cost. The PC configuration is not required, and each input accepts either point- or fiber-optic sensors, saving cost. One AF0500 relay can be set up to trip different zones, eliminating the need to buy separate relays for each zone.
The relay includes an Ethernet interface and supports Modbus TCP communication. A USB port is used to access event logs and to configure complex systems with multiple power sources. The relay provides upstream breaker trip, which is vital in case the local breaker fails to trip.