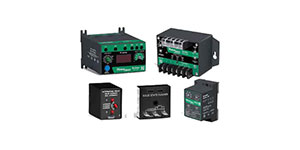 SymCom Incorporated announced today that the owners of SymCom have acquired SSAC, a leader in low-voltage products, from ABB. SSAC Management and Employees will continue to operate from the Baldwinsville, NY facility as SSAC, LLC. The addition includes all SSAC non-Din rail mounted timers, monitoring relays, controls, and custom products. This acquisition will expand the SymCom/SSAC, LLC business within and beyond the 35 countries currently served.
"SymCom is seeking to substantially expand its business with a solid line of electronic control and protection products," stated SymCom President Kip Larson. "The synergies between the businesses will bring real benefits to our valued customers. This acquisition will enable our company to expand our product offerings within domestic and international markets."
Since 1974, SymCom has been a leader in electronic control and protection design and manufacturing with an array of current and voltage monitors, motor and pump controls, and custom electronic controls. Often recognized by the MotorSaver® and PumpSaver® brand names, SymCom's products provide protection, communications, and control for most types and sizes of motors and pumps. SymCom also manufactures load sensors, alternating relays, intrinsically-Safe relays, software, and custom controller boards.