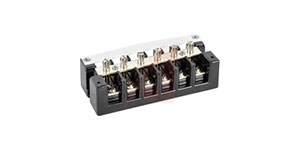 Spacing Requirements Per Application Type

(1) All cited standards and ratings should be verified to the current revision and full requirements.
(2) Listed power distribution blocks can be used in all applications as they exceed spacing requirements. • recognized power terminal blocks may be suitable in a feeder circuit, should they meet the spacing requirements at the application voltage level (see charts below).
(3) Primary series promoted - 142, 143 & 144 are still available
(4) UL 1995 control circuits used to start, stop, regulate or control the speed of a motor is to comply with the standard for industrial control equipment, UL 508 (per 3.10.3.1).
Ul 1953 Spacing Requirements (Max, In Inches) - Listed "Power Distribution Blocks"

Ul 1059 Spacing Requirements (Max, In Inches) - Recognized "Terminal Blocks"

Class A: Service, including deadfront switchboards, panel boards and service equipment
Class B: Commercial appliances including business equipment and electronic data processing equipment
Class C: Industrial, general