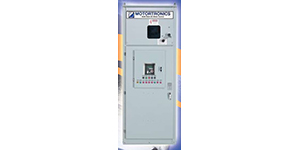 Marine Applications
Propulsion Systems, Bow Thrusters, Azimuth Pods, Fluid Pumps, Water Pumps, Ballast Pumps, Compressors, Chillers
Input Voltage: 2300-7200, 11-15 kV
Current Rating: Up to 1500 amps
Motor Power: Up to 15 MW / 20,000 HP
The Power of Performance for the Toughest Marine Applications.
With the MVC Plus, motor and starter protection are taken to a new level by combining a high-end motor protection relay with a heavy duty starter with exible control features and selectable ramping proles to match any application... no need to compromise performance.
High level circuit isolation via ber optics (standard on all units) for safety and power quality immunity and sealed NEMA 12 enclosures are standard equipment, not an expensive option.
Soft start and protect any AC motor
The MVC Plus Series starter is designed to start AC motors in any xed speed application. It provides maximum protection with "True Thermal Modeling,"while allowing smooth, stepless control of acceleration and deceleration. The MVC Plus Series guarantees power control and protection for your most important assets.
Heavy-duty attitude
Highest rated power devices for maximum current carrying capacity. Rated at 500% for 60 seconds, the MVC Plus Series starter will never be the limiting factor in your application. Powerful sustained gate pulse insures reliable SCR ring without reactors (unlike "wimpy" pulse train designs that require a reactor to prevent SCR and motor damage).
Experience where it counts
With over 500,000 low voltage and medium voltage soft starters in operation, Motortronics has the application expertise you need. No other soft starter manufacturer takes this product more seriously or has as much experience applying solid state starters. The MVC Plus Series is the pinnacle of product development and is recognized by users and OEMS around the world as the best Medium Voltage Soft Starter on the market today.
Lower Your Maintenance Cost and Reduce Mechanical Stress.