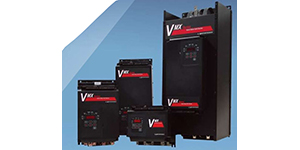 Commercial and Residential Irrigation
Sludge Pumps
Submersible Deep Wells
Booster Pumps
Metering Pumps
Storage Tanks
Standalone Soft Starters or Packaged to Customer Specification
Eliminate the damaging effects of "Water Hammer"
A gradual reduction in the output torque of your pump motor is provided when a stop signal is initiated. When the motor output reaches a point where the check valve can be safely and gently closed, the Pump-FlexTM circuit automatically turns itself off.
Since no two pumps or pump applications are exactly the same, the exible settings of Pump-FlexTM decel control allow you to tailor the output to precisely match your application requirements. No need for external timers or auxiliary controls.
Line Voltage - 200-600200-600VAC 3 phase 50/60HZ
Current Rating - 18-1250A (5HP to 1200HP)
AC Supply Voltage - 120V Control Voltage (CPT included)
Rugged Power Components:
-Inverse parallel paired SCRs
-Auto-synchronizing gate firing method
-500% 60-sec overload capacity
-1600V PIV rating
Ramp Control:
-Closed Loop Torque/Current Ramping
-Voltage Ramp with Current Limit
Across the Line Start Capability:
-Fully Rated Bypass/Emergency Start Contactor
-Full voltage/Softstart Selector Switch
-Independent Overload Relay
Advanced Motor Protection:
-Retentive Thermal Memory
-DDynamic Reset Capacity
Built-In Functions:
-Process Control Timer, Operator Interface
-Ramp Control Choices (4 built-in), Dual Ramps, Jog Function
-Kick Start Function, Pump-Flex Deceleration Ramp, Restart Delay Timer
-Time Clock Controller, RS-485 Serial Communications