High Performance Fiber Amplifiers Deliver Unmatched Stability and Resolution
The N-Smart portfolio of smart laser sensors and amplifiers has been expanded with the launch of the E3NX-FA range of fibre amplifiers.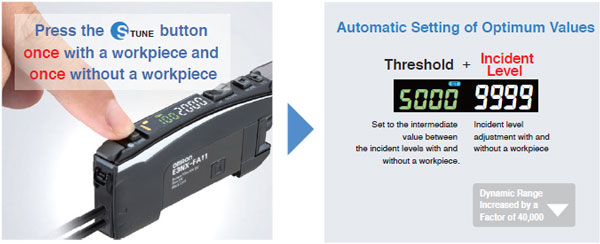 Advanced Smart Tuning
With advanced Smart tuning, the user simply presses the tuning button once with the target present, and again the target absent to automatically set the optimum incident level and threshold. Comprehensive manual tuning options are also supported to enable detection mode and threshold to be optimised, ensuring greater detection stability in the most challenging applications.
Increased dynamic range
The dynamic range has been increased by a factor of 40,000 compared with conventional amplifiers to provide enhanced detection reliability with everything from the most saturated incident levels to the weakest incident levels. Incident light adjustment in as little as 30µs in high speed mode enables more stable detection of faster targets
Dynamic Power Control technology
The E3NX-FA features our Dynamic Power Control (DPC) technology to automatically compensate for changes in the incident light level. In addition, when incident light drops to the compensation limit, perhaps due to a build up of dirt or misalignment through vibration, the amplifier outputs an alarm signal, aiding in predictive maintenance.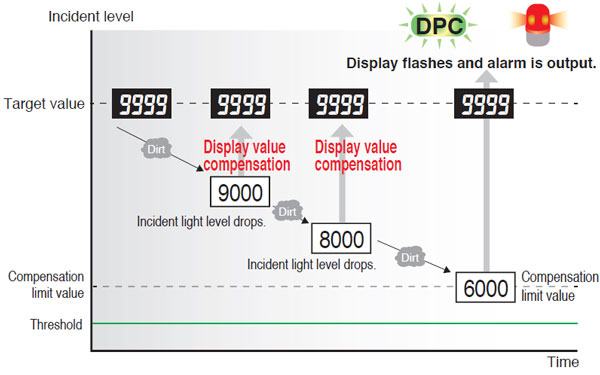 Another innovative feature of the E3NX-FA amplifiers is the high contrast, white on black display that is clearly visible even from a distance, and is less tiring on the user's eyes than conventional displays.
E3NX-FA amplifiers are available pre-wired (2m length) or with a wire-saving connector. An additional model offers connection to an EtherCAT-based sensor communications unit for high speed transmission of I/O-signals and incident light levels.
Predictive Maintenance to Reduce Downtime
An alarm output* has been added to the DPC that automatically compensates differences in the incident level. A maintenance signal is output when the incident level drops due to dirt or vibration for use in predictive maintenance. (We recommend DPC for through-beam or retro-reflective models.)
*An alarm output is supported only on models with two outputs.