Vision sensor sets new standard for image inspection, code verification and optical character recognition
With improved performance, expanded functionality and a wider range of models, the FQ2 defines a new standard in image inspection, code verification and optical character recognition.
The FQ2 vision sensor combines the camera, lens and lighting in a single compact package, complete with image processing capability which eliminates the need for a separate controller. The compact size and all-in-one design makes the sensor simple to mount and ideal for use in confined spaces.
All inspection algorithms integrated
The FQ2 supports a variety of inspection algorithms, including shape search, color inspection, OCR, code reading and verification. For shape detection, the Shape Search II algorithm achieves high speed, highly reliable detection of position and 360°angle even if the objects are overlapping. In addition the Shape Search II algorithm can detect up to 32 objects in the same image, enabling high speed inspection of groups of items.

For character recognition, our unique OCR technology enables stable recognition and verification of even worn out or distorted characters, and requires no setting of parameters to compensate for character contrast or positional offsetting. The large, built-in dictionary includes over 80 different fonts, plus worn, blurred and distorted character variations, and numerous size and background variations. In addition, OCR and code reading can be combined within and verified against reference data that can be set up without any programming or the need for external devices.
Great image detection
Ensuring the best possible image detection, models are available with resolutions from 350,000 pixels, up to 1.3 million pixels. The FQ2 can make up to 32 simultaneous measurements, checking more than 5000 pieces per minute. In addition, because the sensor can measure angles of rotation and other positional information, it can also be used for positioning.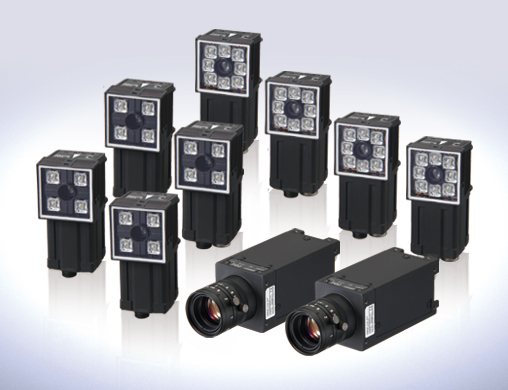 Wide product line-up
With a versatile line-up of products, users can choose the exact functionality required for any application, based simply on the required fields of view and the working distance. Sensors with integrated lenses are available for sensing distances up to 1m for object sizes anywhere between 7mm and 300mm. Our wide view versions ensure wide fields of view even when the sensor is mounted close to the target. In addition, FQ2 sensors are available with C-mount lenses to accommodate fields of view not covered by the sensor with integrated lenses for sensing distances over 1m.
Easy programmable
The FQ2 can be quickly programmed through intuitive PC software or using the TouchFinder console, which also provides local monitoring in addition to accessing parameters and settings.
IP67 Water Resistance
The sensor can be used in wet environments.
Flexible Cables
All cables from the camera are flexible. This allows the Sensor to be used safely on moving parts.
Smart Click Connectors
Connection is made quick and easy with a clear, definitive click-into-place mechanism.