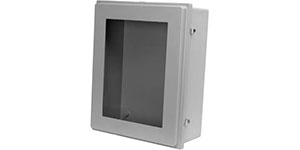 Allied Moulded fiberglass enclosures are fabricated from our own proprietary ULTRAGUARD formulation and molded in RAL 7035 color. This material provides superior performance and protective properties in a wide variety of environments. Please make reference to our performance comparison chart of enclosure materials below.
Allied Moulded Control Series Snap Latch Hinged Cover with Window
Fiberglass Advantage
Many enclosures that house electrical and electronic equipment are exposed to highly corrosive environments in facilities such as chemical and wastewater-treatment plants, as well as golf courses and other outdoor locations. The original industry standards for these boxes were developed for metals, but most metals are problematic alternatives for corrosive environments. Stainless steel provides more corrosion resistance than other metals, but its high cost drives up the price of enclosures. To avoid these metal-related problems, Allied Moulded Products, Inc. is making enclosures out of special materials produced by IDI Composites International, a formulator and manufacturer of thermoset composite bulk molding compound (BMC) and sheet molding compound (SMC). Allied has found that BMC and SMC hold up well in the most corrosive environments, and are much less expensive than stainless steel.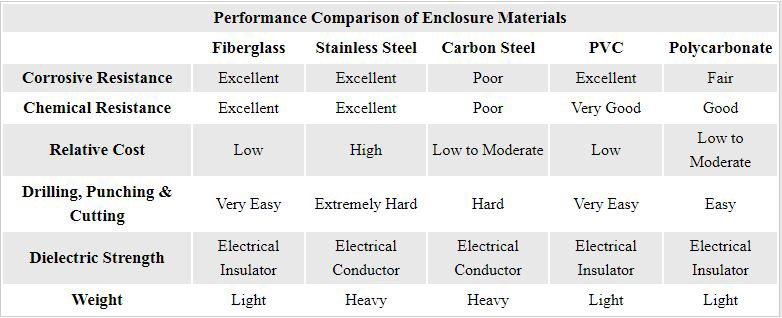 Besides high corrosion resistance and low cost, BMC and SMC offer good electrical insulation properties, which is important when the enclosures house electrical equipment. In addition, the mechanical properties of BMC and SMC help them meet a number of stringent NEMA strength requirements developed for metal enclosures. These include ballistic requirements meant to ensure that enclosures can withstand attacks by armed vandals and the chance impacts of stones, golf balls and other hard objects traveling at high speeds. Thermoset enclosures are also up to 35 percent lighter than steel units of equal strength, so manufacturers who switch from steel to composites can reduce product weight without sacrificing key mechanical properties.
Unlike metal enclosures, thermoset boxes won't become dented over time by random impacts, due to the memory characteristics of BMC and SMC. In addition, thermosets feature UV resistance, important for outdoor enclosures. They also offer molded-in color, which eliminates the need to paint enclosures to give them a more pleasing appearance and makes them less conspicuous in places where aesthetics matter. Thermoset composites consist of fiber reinforcement in a polymer resin. The fiber provides strength and stiffness, while the resin protects the fibers and gives the material its shape.
Fiberglass Reinforced Polyester (FRP) offers significant benefits over metal enclosures such as carbon and stainless steel. Allied Moulded enclosures also outperform other non-metallic alternatives in areas such as:
Chemical resistance
Protection against degradation due to UV exposure
Resistance to extreme temperatures
Flame retardant properties
Compare them and you'll discover that fiberglass reinforced polyester enclosures are:
Lighter and easier to handle
Strong enough to hold up under extreme conditions
Equal to stainless steel in corrosion and chemical resistance, and far better than carbon steel
Non-conductive - an electrical insulator rather than electrical conductor
Much easier to punch, drill or saw
Less expensive to ship
Of course, Allied Moulded fiberglass enclosures are designed and regularly tested to meet stringent UL and CSA specifications, but we don't stop there. Our full line of corrosion-resistant, maintenance-free fiberglass enclosures is designed to provide optimum protection in the harshest environments, from water treatment facilities and irrigation systems to oil refineries and chemical processing plants.