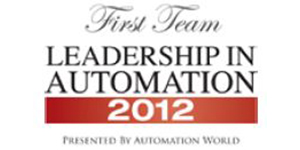 Each year, Automation World invites automation professionals to recognize innovation, leadership and excellence among suppliers of automation software, technology and products. Voting for the current program, First Team – Leadership in Automation 2012, via a year-long independent email polling has ended and Automation World Magazine will be recognizing its 2012 category leaders in the coming weeks via their website and in print in their January issue of Automation World magazine.
Automation World will soon report on who readers partner with to implement automation projects and improve their companies' bottom lines. This annual survey helps you know who your peers have chosen as their "first team" suppliers per Gary Mintchell, Co-founder and Editor in Chief of Automation World Magazine.
Emerson Industrial Automation - SolaHD has for the second year in a row earned the distinguished honor of "First Team" designation as a supplier for Power Conditioning and Protection products. The recognition is for outstanding achievement among our peers in the area of leadership in automation for these products and indicates the suppliers our customers feel are their "first team" suppliers. We would like to thank Automation World and its readers plus all others that participated. Most importantly, we thank our customers and peers for recognizing us in the category of Power Conditioning and Protection for a second year in a row. SolaHD and its representatives will continue to promote excellence within the automation community and provide our customers with a Total Power Quality Solution for their critical needs.