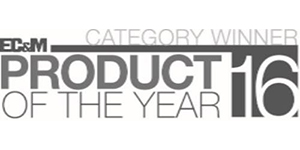 SolaHD is extremely proud to receive the EC&M 2016 Product of the Year Award for the category of Power Sources with the incredibly innovative line of IP67 SCP-X Series of power supplies. This award honors excellence in new product development in the electrical industry by recognizing the talent and commitment of everyone involved in every aspect of the development, from concept through sales and marketing.
Category winners are identified "based on innovation and the ability to save end-users time and enhance productivity." EC&M Product of the Year Supplement, April 2016 Issue.
SolaHD Product Management and Engineering Teams conducted extensive research to develop a solution to the increased demand for distributed field power for machine device control and communication. The result, a sealed 24 Volts DC field power supply in an IP67 rated case that lowers the cost of delivering field power to machines by eliminating separate power supply enclosures while providing fast and flexible installation.
The IP67 SCP-X power supplies are designed to provide the versatility and cost-efficiency to deliver reliable distributed and remote field power to machine controls. Mount directly on the machine or production line eliminating the complexity and cost of unnecessary enclosures and excess wiring. Quick change connectors simplify connectivity for distributed I/O devices on industrial machinery.
These Class 2 Listed 24 Vdc power supplies are available in single and dual 100 Watt models with control output and isolated output options, and are perfect for automotive, packaging and automated distribution applications.