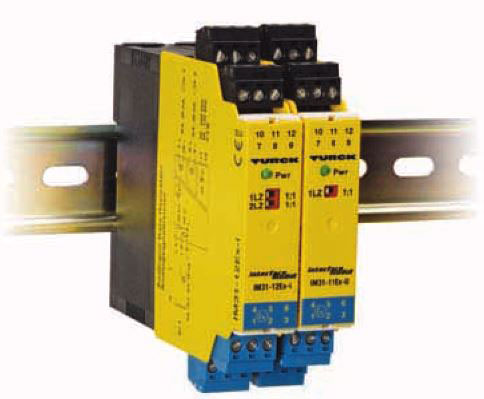 Analog Data Transmitters
are a selection of devices that allow the transmission of hazardous area analog signals to a non-hazardous area as a direct one-to-one, or with a slight variation that is sometimes desired for specific applications. The Analog Isolating Transmitters can transfer 4-20 mA, 0-20 mA, 0-10 V or 2-10 V signals from a hazardous area and repeat the signal in the non-hazardous area either as a current or a voltage signal; 2 current signals or a 2 channel one-to-one combination, depending on the module.

These devices offer a much requested and much desired mix of inputs and outputs that are sometimes difficult to achieve with conventional intrinsically safe interface devices. Flexibility is a key feature of these devices, with the option to convert from voltage to current or from current to voltage where required. The multi-channel device also provides a compact high-density solution for applications where space is an issue.

Part Number Key
Part Number Keys are to assist in IDENTIFICATION ONLY. Consult factory for catalog items not identified.

Extension Examples:
IM31-12Ex-I
Interface Module
Analog Data Transmitter
Single Channel Input
2 Non-Hazardous Area Current Outputs
Intrinsically Safe Associated Apparatus
Non-Hazardous Area Current Output
IM31-11Ex-U
Interface Module
Analog Data Transmitter
Single Channel Input
1 Non-Hazardous Area Current Outputs
Intrinsically Safe Associated Apparatus
Non-Hazardous Area Voltage Output
IM31-22Ex-U
Interface Module
Analog Data Transmitter
2 Channel Input
2 Non-Hazardous Area Current Outputs
Intrinsically Safe Associated Apparatus
Non-Hazardous Area Current Output