BL20 motor starters allow 3-phase motor control to be connected to the same BL20 rack as the standard I/O. BL20 motor starters can be mounted on the same rail as the BL20 gateway, or they can be mounted on another rail to ease placement within panels. The motor starters will be controlled by the gateways via the chosen fieldbus (DeviceNet, PROFIBUS-DP, or CANopen).

How to Order a Motor Starter


How to Implement the Motor Starters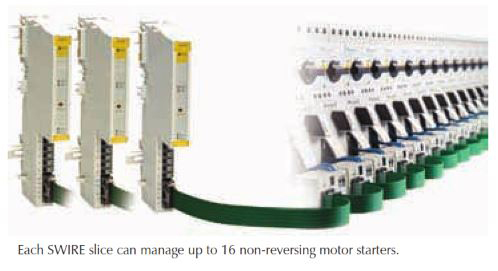 Each gateway can support up to 3 SWIRE modules for a total of 48 non-reversing motor starters on a single gateway. Any reversing motor starter is considered as 2 non-reversing. The motor starters are rated for .06kW to 15kW (0.08hp to 20hp).

By ordering parts of the motor starter separately will allow for fewer parts to be stored within your inventory and will cost less to repair if just one piece of the motor starter fails. Motor starters are hot-swappable as long as the SWIRE-DIL module stays connected to the SWIRE system.
Refer to the
user manual
for details on installing and configuring the BL20 motor starter system.