Turck is a global leader in industrial automation technology. Over 4,000 employees in 28 countries strive to deliver the best sensor, connectivity, and fieldbus technology products on the market. To do this more efficiently, Turck production facilities are strategically located across the globe, including sites in the United States, Germany, Switzerland, Mexico and China. This also helps Turck adapt to specific market conditions, as well as bringing product to the market faster.

Turck strives to provide our customers with not only the best products on the market, but also the best service and support. Our highly trained engineering staff is available to walk you through your system requirements and help find solutions to difficult application problems. Unlike other companies, when you call Turck, you will always be able to speak directly with an engineer in a matter of minutes! Combine this with a network of over 2,000 experts across the United States, and you literally have the finest assembly of industrial automation professionals at your doorstep.

FIELDBUS TECHNOLOGY

Turck provides a complete line of distributed I/O products and technologies for every fieldbus protocol, including modular and block I/O systems, in-cabinet and on-machine I/O, decentralized intelligence with programmable systems conforming to IEC 61131, and innovative technologies, like RFID. All platforms provide the ability to reduce time and costs during a project's planning, installation, commissioning, and operation phases.

Turck's modular I/O systems, such as the BL20 and BL67, provide a high degree of flexibility to varying types of applications. BL20 terminal-wired, in-cabinet I/O systems offer flexible gateway options in a variety of fieldbus protocols, decentralized control/programmability via CoDeSys, an IEC 61131-3 programming software, and the ability to integrate motor starters. BL67 combines all of the flexibility of an in-the-cabinet I/O system with modularity, ruggedness, and connectorization. Both BL families support Turck's BL ident RFID system.

Turck's block I/O solutions include the BL compact and rugged advanced I/O module (AIM) stations. These distributed I/O stations are capable of providing a wide variety of I/O signals, such as digital/discrete, analog, temperature, counter, RS485, RS232, SSI inputs, and IO-Link as well as RFID capabilities, in a wide range of network protocols.

APPLICATIONS

The array of applications where Turck products are used is as extensive as the markets where they are applied.

Distributed Control

Turck products can be programmed with CoDeSys software to create independent or distributed control architectures using gateways with integrated subnet capabilities. Turck is once again changing the industrial communication landscape with its newest innovation, ARGEE, which allows users to enjoy PLC logic and control inside of their distributed I/O. This effectively turns simple distributed I/O devices into fieldbus logic controllers and gives customers unparalleled flexibility and control.

Industrial Ethernet

Turck provides a complete line of Industrial Ethernet products, including on-machine, in-cabinet, block, modular I/O, and our recent innovation: the Multiprotocol Industrial Ethernet concept. Turck's multiprotocol products seamlessly self-configure between Ethernet/IP, PROFINET and Modbus TCP. Multiprotocol technology makes transitioning between protocols easy, and implementing a fieldbus simple from the first plug-in.

RFID - BL ident

RFID solutions for ISO 15693 – HF 13.56 MHz and 18000-6C EPC Global Gen2 UHF 900 MHz. Turck offers block and modular I/O solutions available for IP20, IP67 and IP68/69K. BL ident is available for all of the popular networks including Ethernet, PROFIBUS, DeviceNet and CANopen.
BL ident offers the ability to read or write to multiple RFID channels in a single fieldbus gateway/ node. BL ident also offers the ability to combine RFID with other types of I/O (inputs and outputs) for a truly flexible solution.

Harsh Environments

Turck products have some of the highest tolerances to environmental extremes on the market. Block I/O products are rated from -40°C to 70°C and are protected up to IP69K. These parts are able to withstand the spraying, cleaning and humid or moist environments often found in food and beverage applications.

IN-CABINET I/O

MODULAR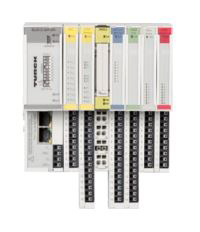 Gateways:

• Available for Multiprotocol Ethernet, PROFIBUS, DeviceNet, CANopen, EtherCAT, Modbus RTU and PROFINET IRT
• Switches for device addressing

Programmable Gateways:

• Programmable for local or distributed control applications
• CoDeSys (IEC 61131-3) programming environment

I/O Modules:

• Removable under power (standard modules)
• Spring and screw terminal bases
• Digital and analog inputs/outputs
• Specialty cards available (serial, RFID, IO-Link, counter, etc.)
• Motor starter card can host direct and reversing starters

BLOCK

Compact I/O for in-cabinet applications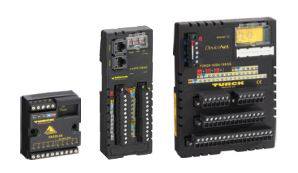 Multiprotocol Ethernet:

• Available with up to 16 channels of I/O
• IP20 rated for DIN-rail mounting
• Built-in Ethernet switch

DeviceNet Stations:

• Available with up to 32 channels of I/O
• IP20 rated for DIN-rail mounting

PROFIBUS Stations:

• Available with up to 16 channels of I/O
• IP20 rated for DIN-rail mounting

AS-interface Stations:

• Available with up to 8 channels of I/O
• IP20 rated for DIN-rail mounting
• Version 3.0 compatible, 62 modules with 4 inputs/4 outputs each

ON-MACHINE I/O

MODULAR

BL67 - Flexible and rugged option for out of the cabinet applications supporting up to 32 I/O cards per system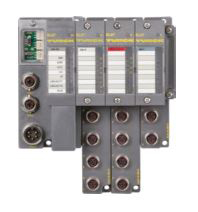 Gateways:

• Available for Multiprotocol Ethernet, PROFIBUS, DeviceNet and CANopen
• Quick-disconnect for simple and efficient wiring
• Rotary switches for device addressing

Programmable Gateways:

• Programmable for local or distributed control applications
• CoDeSys (IEC 61131-3) programming environment

I/O Modules:

• Up to 16 I/O channels per module
• Removable under power
• M8, M12, M23 and 7/8 16UN connector options
• Digital and analog inputs/outputs
• Specialty cards available (serial, RFID, IO-Link, counter, etc.)

BLOCK

AIM Stations – Compact I/O for harsh environments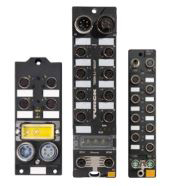 Multiprotocol Ethernet Stations:

• Available with up to 16 channels of I/O
• Per point diagnostics
• I/O Supported: Digital, Analog, and IO-Link

DeviceNet, PROFIBUS-DP, and CANopen Stations:

• Available with up to 16 channels of I/O
• Per point diagnostics

BL compact - Flexible, compact I/O for harsh environments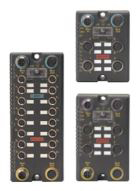 Protocols Supported:

• Multiprotocol Ethernet
• EtherCAT
• DeviceNet, PROFIBUS- DP and CANopen

Configurable I/O:

• Signal types can be combined into a single module (BL compact)
• Full line of analog I/O (current, voltage and temperature)
• Digital I/O
• RFID
• IO-Link

RFID

BL ident - Maximum freedom and highest flexibility offered by an RFID system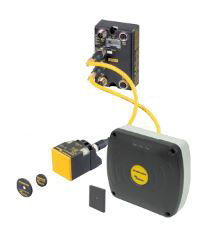 Controllers:

• ISO 15693 – HF 13.56 MHz; ISO 18000-6C EPC Global Gen2 - UHF 900 MHz
• IP20, IP67 and IP68/69K protection ratings
• Available for all of the popular networks
• Stand alone control with programmable gateways
• Multiple RFID channels available in a single solution
• Ability to integrate RFID with other I/O

Transceivers:

• Robust industrial designs available in a variety of sizes and package styles
• Ability to read tags on the fly up to 10 meters per second
• Read/write distances available to suit a variety of applications

Tags:

• Custom tag designs available
• Available in FRAM and EPROM options
• Data sizes up to 8K
• Direct mounting on metal

Handhelds:

• HF & UHF options
• WLAN, barcode and Bluetooth capability
• Demo software for reading and writing data
• Customized software solutions on request

SAFETY I/O

Hybrid Safety I/O Blocks: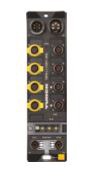 • Flexible safety I/O for PROFIsafe and CIP Safety
• IP67/IP69K protection classes
• Two safety-related inputs
• Two configurable safety channels (input/output)
• Two IO-Link masters and four configurable discrete I/O points
• Applications up to PLe, SIL 3, Cat. 4

AS-interface Safety at Work Integrated Gateway and Safety Monitors:


• Supports EtherNet/IP, Modbus TCP, EtherCAT, PROFINET, and PROFIBUS-DP
• Up to 32 independent release circuits
• Easy to use software to replace labor intensive wiring
• Safety I/O and EDM inputs onboard

AS-interface Safety I/O Modules:


• Safety input devices for supporting common signal types (floating contacts, optoelectronic inputs, resistive mats, analog, encoders)
• Remote safety output modules with relay or solid-state outputs
• IP20 and IP67 modules available
• Powered from AS-i network

DISTRIBUTED CONTROL

CoDeSys:

• IEC 61131-3 based programming software (options for CoDeSys versions 2 and 3)
• Programmable gateways available for BL20/BL67 modular systems
• Programmable in Ladder (LD), Structured Text(ST ), CFC, FBD, SFC and IL languages
• Download free programming software

ARGEE:

• Web based programming environment
• Standard in Turck Multiprotocol block I/O devices
• No PLC needed to perform logic

ACCESSORIES

I/O-Assistant/Pactware:

• FDT/DTM based technology
• Tool for engineering, configuring, commissioning and diagnosing
• Download for free
• Advanced webserver - Ethernet products include embedded webserver for diagnostics and configuration

Passive Junction Boxes

• Available for FOUNDATION fieldbus, PROFIBUS-PA, DeviceNet and AS-interface
• FM and ATEX approved for hazardous locations
• IP20 and IP67 options available

Active Junction Boxes: Cables:

Repeaters

• Available for DeviceNet, PROFIBUS-DP and AS-interface
• IP20 and IP67 versions for in- cabinet or on-machine mounting

Ethernet Switches

• IP20 featuring 5 and 8 ports
• IP67 featuring 5 and 9 ports
• Managed and unmanaged versions available

Power Supplies:

• 12/24 VDC outputs from 2 to 20 Amps
• 120 VAC up to 480

VAC input options

• IP20 and IP67 options available

Cables and Connectors for All Major Protocols

• Ethernet – RJ45, 4 and 8-pin M12
• DeviceNet
• FOUNDATION fieldbus
• PROFIBUS-PA
• PROFIBUS-DP
• AS-interface

Cables and Connectors for All I/O Devices

• Digital, analog, RFID and specialty I/O devices