High Performance Wiring Solution for Automated Systems

The selection of high performance cable for automated equipment, often an afterthought in system design, is an effective solution that can reduce costly plant downtime due to cable failure. As a manufacturer of connectivity, sensing and network products, TURCK takes plant downtime seriously. At TURCK, we create specific cable and wiring designs for automated robotic, material handing and assembly systems used for product manufacturing and processing applications in the automotive, food/beverage, biotechnology and semiconductor industries. These plants can experience downtime costs from hundreds to thousands of dollars per minute, and depend on the reliability of TURCK products to keep their automated systems running.

flexlife-20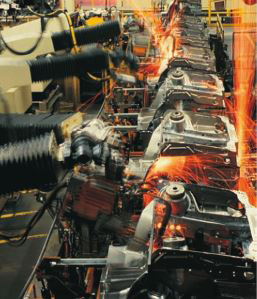 Specified by a major automotive manufacturer for all robotic applications.

We Build "Flex" into Every Cable We Design

Our standard PVC and PUR control cables are designed to meet a minimum of 2 million flex cycles. These control cables are still in use years and 7 to 8 million flex cycles later. flexlife-20, our latest innovation in high flex cable design, guarantees increased performance to 20 million cycles of continuous flexing, bending and twisting motion found in C-track, robotic and other motion systems.

Your Choice: flexlife-20 Spooled Cable or Molded Connector Cordsets

Selecting the best cable design can be confusing and costly. Some cable manufacturers assign a different cable to each axis of motion, which may not accurately reflect your application needs. flexlife-20 cable provides the same superior performance for all types of motion. Choosing flexlife-20 takes the risk out of specifying for motion applications.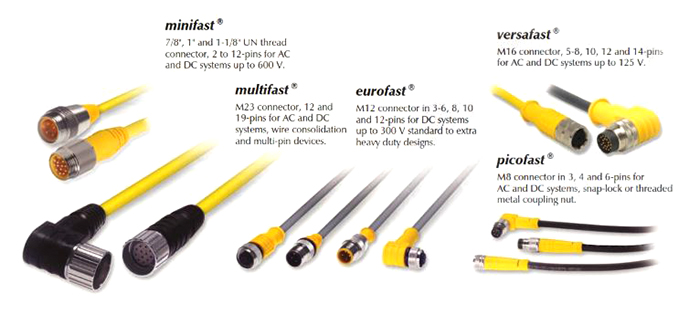 A Design So Revolutionary it Outperforms All Other Robotic Cable!

The superior performance of flexlife-20 is due to a unique, low-stress cable construction using custom compounded TPE and PUR. The flexlife-20 design generates less heat while flexing, which prevents deformation and stress to the cable. Other robotic cables often contain high amounts of fillers and less of the high cost base polymer as a cost savings measure. This compromises the flexing properties of the cable, lowering performance and product life.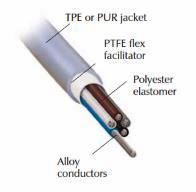 The flexlife-20 design includes finely stranded, custom alloy conductors and proprietary blended thermoplastic insulation and cable jacket compounds. A flex facilitator made of Teflon is wrapped around the conductors preventing heat build-up due to friction between the cable jacket and conductors during the flex cycle.

Continuous Flex Products for Every Industry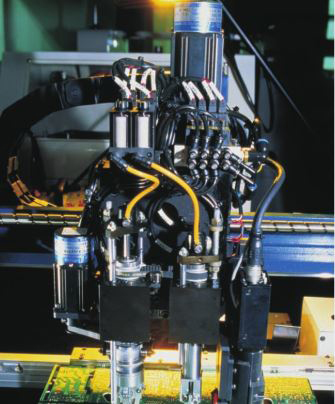 TURCK's flexlife-20 continuous flex cable offers a wide range of standard and custom connectivity solutions, from machine tools and automotive assemblies to medical devices and semiconductor manufacturing.

Industry Exclusive - 20,000,000 Cycle Warranty

To avoid costly downtime of your manufacturing operations, you need reliable cables and connectors. That is why TURCK has spent over 5 years developing flexlife-20 cables and why TURCK can offer a 20,000,000 cycle warranty. If your cordset product made with flexlife-20 cable fails before 20,000,000 cycles, we will replace it. The warranty becomes effective when you complete the 20,000,000 Cycle Warranty Registration and return it to TURCK. A TURCK authorized representative will visit your site to make any recommendations necessary on the proper installation of your cordset product. Contact TURCK for the full details of the warranty.

flexlife-20 Cable Specification Guidelines for Motion Systems

Automation systems have special cable design requirements. When making a cable selection it is essential to consider the operating environment, the type of motion and any special mechanical requirements of the system. Understanding the environmental factors of the application will help determine cable insulation materials, bend radius and other essential cable characteristics.

Environmental Operating Conditions

Automation systems operate under a variety of environmental conditions that require cable insulation to be resistant to extremes in temperature, chemicals and abrasion.

• TURCK Thermoplastic Elastomer (TPE) is a specially blended polymer of high molecular weight that provides the flexibility of PVC with the wear and chemical resistance of rubber. Excellent for use in most automated applications.

• TURCK Polyurethane (PUR) provides the highest abrasion resistance and is impervious to hydraulic fluids and hydrocarbons. Recommended for use in automotive manufacturing applications.

All flexlife-20 Cables Provide:

• Excellent oil resistance
• Cold temperature flexibility to -40°C (-40°F)
• Flame retardant designs - CSA FT-1
• Meets UL and CSA approvals

Special Mechanical Requirements

Mechanical considerations for applying the proper bend radius, termination and strain relief need to be observed from system design through installation and first flex cycle. The best method of termination and stress relief for flex cable is molded connectors. Cordsets with molded connecters provide dependable termination and built-in strain relief. Specifying cable with molded connecters will provide added value later by reducing installation time, preventing miss-wiring and making system changes and maintenance a more efficient process.

Typical Flexing Motions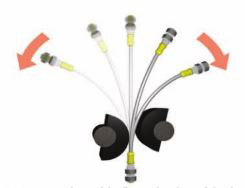 Bend Flexing
The cable flexes back and forth with one end of the cable in a stationary position. This type of motion is often the result of installation around fixed objects in addition to the applications listed below.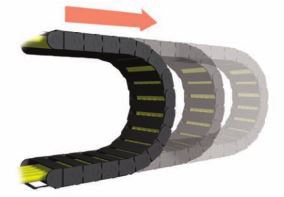 Continuous Flex
The cable is rolling or flexing back and forth in a linear motion. C-track is a typical continuous flex application.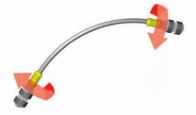 Torsional Flex (longitudinal twisting)
The cable is twisting and flexing continuously in a clockwise- counter clockwise fashion. Angles can range from 90° to 360°. Torsional flexing is typically found in robotic applications.

Proper installation techniques will maximize the full service life of continuous flex cable. Good installation practices include adhering to local codes and following the installation recommendations of cable, conduit, cable tray and flexible carrier manufacturers.

Due to its high quality construction, flexlife-20 can be directly installed into C-tracks and other applications without prior steps to un-stress the cable. Many cable manufacturers recommend suspending or laying out cable prior to installation for a minimum of 24 hours. With flexlife-20, you can skip this step and shorten the installation time. By installing cable with connectors, you can be up and running even faster. Whether you use cordsets or spooled cable, the following installation guidelines should be observed.

Installing Spooled Cable

Unwind cable from the outer layer of the spool without twisting or creating loops. Do not pull directly from a fixed reel.


Bend Radius and Free Movement of Cable

The recommended bend radius for flexlife-20 is 10 x cable diameter. The cable must be able to move freely along the bend radius when installed in C-tracks and other motion applications. Check for adequate freedom of movement through several test flex cycles to verify proper installation.

Cables of various diameters installed in cable carriers need a minimum space allowance of 10% of the cable diameter and even weight distribution. flexlife-20 will not adhere to other cables in a cable carrier. Cables secured with ties to a stationary support or bundled together need to slide freely under the tie without pinching conductors or cables. Whether a molded connector or hardwired cable is used, each end of the cable needs proper strain relief.


Providing sufficient bend radius will allow the cable to absorb the energy of bending over a greater portion of its length, increasing its effective working life. Small increases in the radius of the bend can produce substantial increases in cable life.

flexlife-20 Tests to 20,000,000 Flex Cycles and Beyond

Our Flex Testing Protocol is designed to replicate the application environment continuous flex cables would endure while installed in the most abusive automated systems. Applications such as robotic assembly in automotive plants, pick-and–place machines, packaging equipment and automated medical test equipment where the combined multi-axis motions of twisting, bending and continuous flexing occurs 24/7 for many millions of cycles.

Torsional Flex Test

The cable is subjected to 360° torsion "twisting" while the cable rolls back and forth over a pulley at a rate of 30 cycles per minute. This test runs continuously to replicate an abusive robotic application.

Bend Flex Test

This test simulates cable installed to fit around devices where the cable repeatedly bends on a 180° plane, back and forth over a 6-8 inch radius at a rate of 30 cycles per minute. This "tic–toc" motion simulates many different extreme motion applications.

These cables are tested on our internal cable 'torture' machine. Test parameters and results are as follows. Note that the cables are still in test as there have not been any failures yet!
Rolling/Torsional Test (Twist and Roll)
Parameters
Bending Radius
10 x OD
Travel Distance
1.0 ft (30.5 cm)
Cycle Time
2 seconds
Acceleration
Varies up to 26 ft/s2 (792 cm/sec2)
Temperature Range
+16°C to +23°C (+61°F to +73°F)
Speed of Travel
6.5 to 13 ft/s (198 -396 cm/s)
Torsional Stress
±160°/ft (±520°/meter)
Results
6 Conductor 24 AWG
31 million (stillgoing)
12 Conductor 18 AWG
36 million (stillgoing)
Bending Flex Test (Tic-Toc)
Parameters
Bending Radius
10 x OD
Bending Angle
±90° from horizontal
Cycle Time
2 Seconds
Acceleration
Varies up to 26 ft/s2 (792 cm/s2)
Temperature Range
+16°C to +23°C (+61°F to +73°F)
Results
6 Conductor 24 AWG
33 million (still going)
12 Conductor 18 AWG
38 million (still going)
19 Conductor 18 AWG
30 million (still going)