Installing Cable Products in Accordance with the National Electrical Code (NEC)

The NEC is a set of guidelines for installation of electrical devices, including cables, meant to reduce the risk of electrical shock, fire, etc. The NEC is simply a code and local laws may or may not require installation based on the NEC. Check local laws for applicability.

The NEC generally does not cover cables installed inside a machine. Any cables installed in an exposed manner, on the outside of a machine or from one machine to something else, must be an approved type and installed in accordance with the appropriate NEC articles.

UL (Underwriters Laboratory) and CSA (Canadian Standards Association) are the primary sources in North America for approving cables to specific standards. While a cable installed within a piece of machinery does not fall under the NEC, most people want to install an approved cable. TURCK cables have both UL and CSA approvals. Many of these approvals are the UL AWM (Appliance Wiring) approvals and are acceptable for use in a UL approved device. A UL Listed cable may be installed outside a machine per the NEC standards. UL Listed cables available from TURCK include NEC designations for hard duty cables (SOOW, SJOOW, STOOW, SEOW), armored cables (MC), and tray-rated cables (PLTC, ITC).

Hard duty cables designations are:

S - Service Grade (600V)
SJ - Service Grade Junior (300V)
ST - Service Grade Thermoplastic (600V)
SE - Service Grade Thermoplastic Elastomer (600V)
O - Oil resistant jacket material
OO - Oil resistant jacket and conductor insulation
W - Weather proof
TURCK Armored Cables
are available in 3 different configurations. Type MC cables, type MC cables with ITC/PLTC approvals and simply ITC/PLTC approved. Armored cables with ITC/PLTC approvals may be installed in an exposed run without being offered additional mechanical protection.

Tray-rated cables from TURCK include Instrument Tray Cable (ITC) and/or Power Limited Tray Cable (PLTC).

TURCK NEC type approved cables are dual listed with other UL type approvals. For example, the RKM 126-*M cordset has a 12 conductor 16 AWG cable with UL AWM 600V approval and ITC/PLTC approval.

Please refer to the NEC and local laws for specific installation requirements based on your environment.

Cable Applications

Proper management of cabling systems can mean the difference between a dependable and smooth operating installation and costly reoccurring down time. The suggestions outlined below illustrate some of the common sources of problems and provide simple and effective solutions.

Proper Bend Radius for Fixed and Moving Applications

Providing sufficient bend radius will allow the cable to absorb the energy of bending over a greater portion of its length, increasing its effective working life. Small increases in the radius of the bend can produce substantial increases in cable life.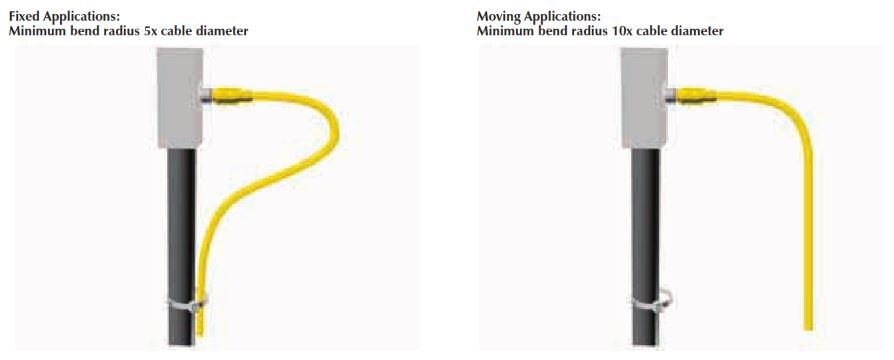 Eliminating Stress Points in Cable Dress

Installing cables to allow for adequate stress loops and freedom of motion increase the life of the cables. TURCK cordsets incorporate molded strain reliefs that will assist in preventing stress.


Cable Bundling Techniques

When bundling several cables together, always keep the bundle loose enough to move within itself. Tightly tied bundles create both compression and tension stresses when the bundle is moved.


Cabling for Motion Applications

Where cabling is subjected to linear, angular or rotational motion between two points, always allow adequate cable length to absorb the energy imparted by the motion. Use of coiled cords, mechanical support mechanisms, or large, well supported cable loops will maximize cable life.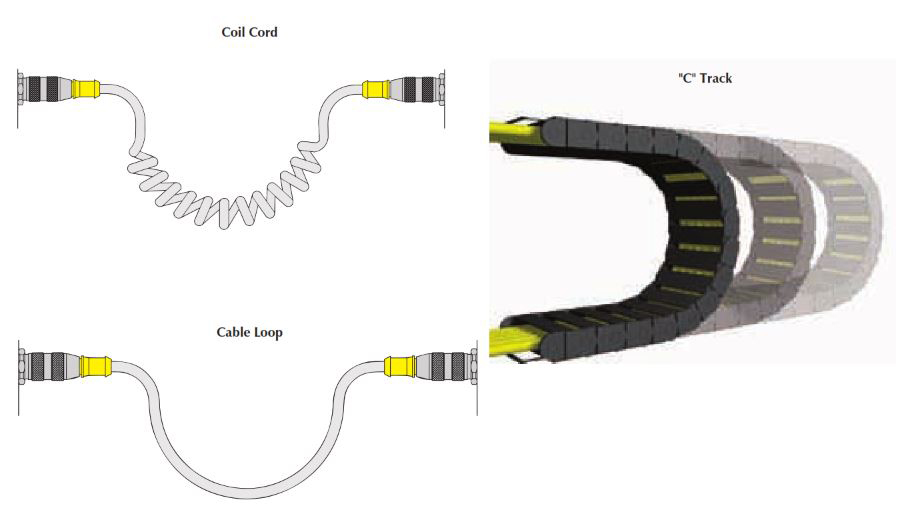 Tying Cables with Cable Ties

When tying cable with self locking cable ties, always leave the ties loose enough for the cables to slide freely under the tie. Over tightening will create stress concentrations that can cause the conductors to fail prematurely. Never tighten the tie to the point where the cable jacket becomes deformed or pinched.